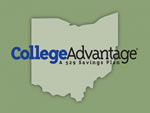 This is a reminder that the Ohio CollegeAdvantage 529 Plan is offering some excellent incentives for those looking to start putting some money aside for college. Open to residents of any state, the best part is that this is one of the nation's best 529 plans for those looking for low-cost investment options and a good customer experience. Here's an example of how a couple can earn a free $150 jumpstart on their college fund. While I use the term "parent", this would work for any two people – grandparents, aunts, brothers, friends, etc.
Parent #1 opens a new Ohio 529 account using a referral from an existing user (details below). They list the child's name as beneficiary. Parent #1 earns $25 incentive.
Parent #2 open a new Ohio 529 account as well, using a referral from Person #1. This account can also list the child's name as beneficiary. Parent #1 earns $50, and Parent #2 earns $25.
Both people also start a automatic savings plan with just a $25 minimum monthly deposit (details below). This earns another $25 each.
Add them all up, and that amounts to $150 in free money towards college. All the applications and deposits are done electronically quickly and with minimal hassle. Keep up the automatic deposits, and make saving for college easy.
Refer-A-Friend Bonus
If you open a new account and enter the referral code of an existing member, the new member will get a $25 bonus into their account. The referring member will get $50. My referral code is 2439350. This current promotion expires December 15, 2009. Many more details here.
$25 Systematic Savings Bonus
If you start a new recurring electronic funds transfer (EFT) from your bank account into your 529 account of at least $25 per month for 3 months, you will receive a separate bonus of $25. This recurring transfer must be started by January 31, 2010. Many more details here.