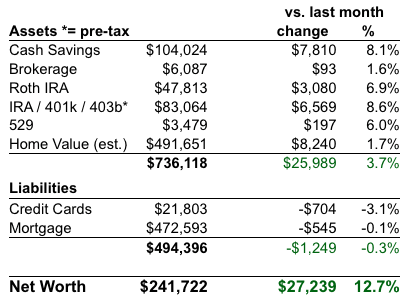 Credit Card Debt
In the past, I have taken money from credit cards at 0% APR and placed it into high-yield savings accounts or similar safe investments that earn 4-5% interest or more, and keeping the difference as profit. I even put together a series of step-by-step posts on how to make money off of credit cards in this way. However, given the current lack of great no fee 0% APR balance transfer offers, I am have not been as active in this "game" recently. My credit score remains high enough that I haven't seen any negative actions.
Retirement and Brokerage accounts
The market rally was sustained during April, so our predominantly passive investment portfolio increased a bit. We contributed another $2,312 in 401(k) salary deferrals this month including company match. See my investment portfolio page for more details.
I get attracted to various different ideas as time passes, but I really haven't changed my investment portfolio in about two years now. I always need to remind myself to stick to the basics.
Cash Savings and Emergency Funds
Our cash savings rose again, and although I want to keep one year of expenses for our emergency cash reserves, I need to start putting more money to work in the stock market and other investments. It's just hard to let go of the security of cash right now. We are contemplating whether we want to save up for a rental property.
Home Equity
I used the same internet valuation tools as before – Zillow, Cyberhomes, Coldwell Banker, and Bank of America (old version).
I have zero personal input here, I just average out what the sites say. They say up. The number shown is after an additional 11% reduction to be more conservative. Not that it really matters, as I am primarily focused on paying off the mortgage, as outlined in my quick and dirty plan for financial freedom!