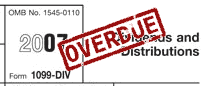 It's mid-February. Some of you early-birds may be wondering where some of your 1099s are by now. By law, they are usually required be sent out by January 31st. However, many brokerages have asked the IRS for a 30-day extension, and they have been granted rather willingly. This includes or has included everyone from small companies like Zecco to big names like Morgan Stanley, Vanguard, and Fidelity.
One big reason for the extension requests is that many mutual funds, ETFs, and closed-end funds have to rely on information provided by all the smaller companies in which they have owned shares. If a company catches an error later on, the correction has to be passed onto the fund company, compiled, and then finally submitted to the brokerage firm. According to this Kiplinger article, more than 13% of 1099s issued in 2006 had to be corrected.
Last year, Ameritrade sent me two revised 1099s. In 2006, I had to file a 1040X amended return because of a similar situation. Waiting a couple of weeks is worth it to me if it means they get it right the first time. Many firms only use a few days of the extension, while other play it more safely.