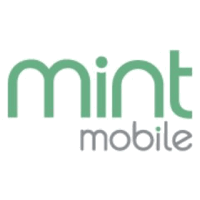 In my own phone, I use Mint Mobile to keep my cell phone costs low. They use the T-Mobile GSM 4G LTE and 5G networks, which means most phones are compatible and switching just requires swapping in a new SIM card. I don't use a ton of data (even less nowadays), and I'm fine on their $15 a month 3 GB LTE plan.
They usually run their best deal of the year on Black Friday, and right now they have "Early Access" on their 2020 B3G3 deal for new customers: Buy 3 months, Get another 3 months for free. They offer their lowest monthly prices when you buy your first 3 months as a new customer, or if you buy in bulk for 12 months after that:
Unlimited talk, text, and 3 GB LTE data for $15 a month
Unlimited talk, text, and 8 GB LTE data for $20 a month
Unlimited talk, text, and 12 GB LTE data for $25 a month
Unlimited talk, text, and 35 GB LTE data for $30 a month*
With Buy 3 Get 3, new Mint customers will be able to get your first 6 months of service at half that amount. At most, you'll be spending $15 a month for 35 GB of LTE data every month. Or you could spend just $45 total for 6 months of unlimited talk, text, and 3 GB data (only $7.50 a month). All of their plans offer the slower 128 kbps speeds after you use up your LTE data, which is nice as you can still check your email and access basic services.
* They call this their Unlimited Plan, which includes:
Unlimited domestic talk and text
Unlimited calling to Mexico and Canada
5 GB of mobile hotpost
High speed LTE/5G speeds reduce until 35GB of usage, capped at 128 kbps after that.
Be sure to use their phone compatibility checker first to see if you can bring your current phone over and just pop in the Mint Mobile SIM card. They also offer a 7-Day "No Questions Asked Money Back Guarantee" (starts upon SIM activation) so you can test them out before making any commitment.
If you're not happy with your plan. You can say "no thanks" at any time during your first 7 days of activation and we'll refund you what you paid (minus S&H). You don't even have to send it back.
Also see:
Disclosure: This post includes affiliate links. If you make a purchase through the links above, I may be compensated.