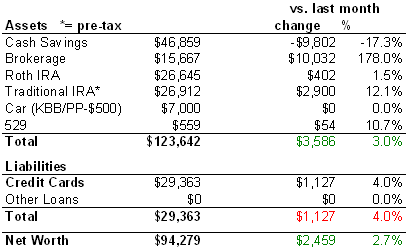 Intro
My large credit card debt is on purpose, so please don't yell at me to pay it off with my cash 😉 Please see my posts on taking advantage of no fee 0% APR balance transfers for more information. In short, I'm borrowing the money for "free" and keeping it in safe investments while earning me interest. Some recent examples are my $9,000 from Citibank and $10,000 from Discover Card.
Thoughts
April was a busy month. We moved, for one thing. Thankfully we got our entire safety deposit back from our previous rental and simply rolled that over into our new one. We threw away a lot of junk and moved most of our stuff ourselves, but did pay a couple hundred dollars for some professional movers for the heavy stuff.
I moved $10,000 of our cash into my new Scottrade account, and still need to invest it. We also filed and paid our taxes, which also included contributing $2,500 into a SEP-IRA (we already maxed out our Roths earlier). Finally, the stock market was bullish in April, leaving us with a good month overall.
We are getting ever-closer to the deadline for our Mid-Term goal, which it looks like will be hard to reach. Still, we have a year and I have lots of ideas that need to be implemented! Go Go Go!!