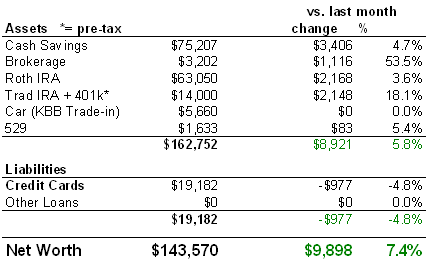 About My Credit Card Debt
Newer readers may be alarmed by my high levels of credit card debt. In short, I'm borrowing money for free and keeping it in safe investments while earning me 5-6% interest. Along with other things, this helps me earn extra side income of thousands of dollars a year. Recently I wrote up a series of step-by-step posts on how I do this. Please check it out if you are curious.
Commentary
The stock market apparently went up this month, again confounding many experts and increased our IRA balances. I continued my monthly contributions towards buying FSTMX within my Self-Employed 401(k).
I moved $1,050 into my Zecco brokerage account and made a few free experimental ETF trades. I'll share the details in the 2nd part of my Zecco review.
Another good month of controlled spending gets us to $66,520 of non-retirement funds, reaching 67% of our midterm goal of house down payment. Total cash is now $56,025.
Two things that helped boost our savings were the $350 from Vegas gambling winnings and $520 from optimizing credit card cashback on my Citi Drivers Edge MasterCard. 😀
You can see all my previous net worth updates here. Looking ahead to future expenses, we need to start looking into moving companies.