Here's one for the tiger moms and overachiever parents. From a recent post on the Harvard Business Review blog:
A recent paper from UCSB found that the return on being good at math has gone up over the last few decades, as has the return on having high social skills (some combination of leadership, communication, and other interpersonal skills). But, the paper argues, the return on the two skills together has risen even faster. […]

The analysis found that while math scores, sports, leadership roles, and college education were all associated with higher earnings over the 1979-1999 period, the trend over time in the earnings premium was strongest among those who were both good at math and engaged in high school sports or leadership activities. In other words, it pays to be a sociable math whiz, more so today than thirty years ago.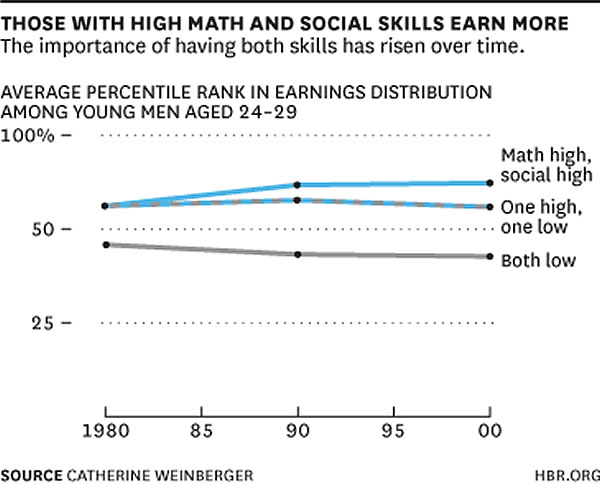 I suppose it's interesting to see this supported by data, but my guess is that most STEM professionals would agree that interpersonal skills are just as important as technical skills today. Lots of people are strong technically. To really make the bucks you have to become a manager of people, and you can't do that if you don't have good interpersonal skills. I'm sure there are exceptions for start-up geniuses, but again those are exceptions and not the rule.
Math club and team sports it is for my girls!