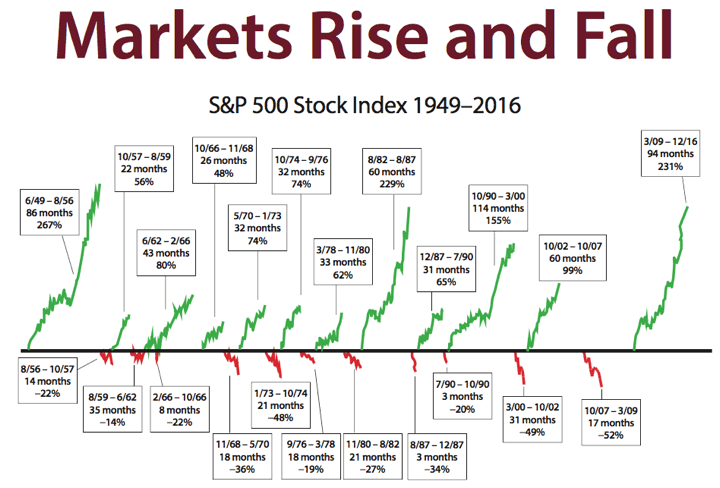 It would be great if you could invest in things with high and reliable returns, going up and up consistently like clockwork and without worry. Unfortunately, that's usually the sign of a Ponzi scheme. The chart above illustrates what you have to deal with in the real world. It shows how the S&P 500 (1949-2016) has had both significant losing streaks and big winning streaks, often one right after the other.
The source is Ric Edelman and The Most Important Chart on Investing You'll Ever See and it comes via Barry Ritholtz and Edelman's Favorite Investing Chart. Here's a selected quote from the Edelman site:
This chart clearly shows that when stock prices are rising, they rise a lot and for a long time.

When prices fall, they fall a little and for a short period.

[…]

When you notice that stock prices are declining, don't be upset. Instead become excited about what lies ahead.
Barry Ritholtz adds:
The usual caveats apply — post Great Depression took 25 years to return to breakeven, and Japan circa 1989 still needs the Nikkei Dow to almost double to get back to the high from almost 30 years ago. If you were retiring during those periods you were pretty much hosed. Still, the cyclicality of markets is very worth noting.
In my opinion, the takeaway is that your investment plan must be ready for both green and red streaks. For one, you need to be able to stay in the market and capture a good chunk of those long green streaks. Bailing out of a winning streak can cause you miss out a lot of money. At the same time, you need to survive those red streaks, which may not look that scary on the chart but are actually terrifying. (Remember that to simply get even from a 50% drop, you'd have to have a subsequent 100% rise.) This can be a tricky balancing act.