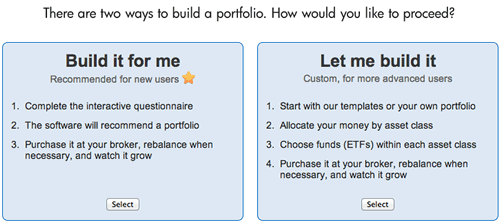 Time to try out another online portfolio manager – MarketRiders.com. While previously-reviewed Betterment is an website/broker/advisor combo that handles all the decisions and trade executions for you, MarketRiders is more like an online portfolio coach telling you what trades to place yourself at the discount broker of your choice. Both services offer diversified portfolios using low-cost index ETFs, but think of it as one cooks you a nice tray of lasagna while the other one provides you a detailed, step-by-step recipe.
Free Trial Sign-up
To find out what the recipe is, you have to sign up for a free 30-day trial with your credit card information. The regular price for the service is $149.95 a year or $14.95 per month. You will be auto-enrolled after 30 days, but MarketRiders promises that canceling is easy and can be done completely online within two clicks. I can confirm it is indeed that easy. Just go to My account > Manage my subscription > Cancel my subscription. You still even get to use the rest of your free 30 days after canceling. Now, what do you get?

(Update: It looks like you can get $25 off the annual fee with coupon code MR25OFF.)
Asset Allocation
First up, you'll need a target asset allocation. You can either provide your own, or MarketRiders can recommend one based on a risk questionnaire. (Ah, the same old risk questionnaire everyone uses because a better alternative has not been discovered. Research has shown that how much people like risk is pretty much dependent on how well the market has done recently.) In any case, I said I was a "medium risk" 33-year old that wants to retire by age 50 with $100,000 to invest.
Here are the target asset allocation (70% stocks/30% bonds) and specific ETF purchases they assigned me.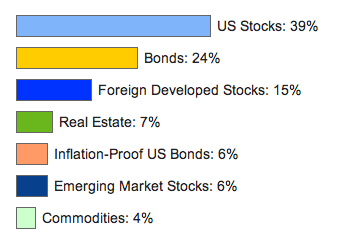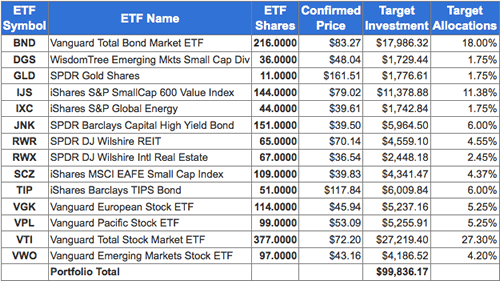 One neat feature is that the your ETF portfolio is tweaked slightly based on what brokerage you wish to use, as some brokers offer commission-free ETFs from certain companies. Curiously enough, even though many of the ETFs recommended were from Vanguard, using discount broker TD Ameritrade instead of going in-house with Vanguard would actually cost me less money in commission as their 100 free ETF list includes all the Vanguard ETFs as well as several iShares ETFs.
Rebalancing
So, you buy the ETFs that are recommended. That's easy enough, but the real long-term benefit of MarketRiders is the ability to keep rebalancing your portfolio to keep it closely aligned with your target asset allocation throughout market cycles. It's easy to be swayed by market forces and stop buying stocks in a bear market, only to miss the surprise bullish moves (like recently!). You want to manage your emotions when investing, and following directions given to you by an objective third party will help you do that.
However, to do this you'll have to update MarketRiders whenever you make an additional purchase and provide your trade information (# of shares, execution price).
Likes and Dislikes
I like the goal and intent of MarketRiders. I like low-cost, diversified portfolios. I like the ability to enter a custom portfolio. I like rebalancing regularly to maintain the right risk profile and to combat behavioral weaknesses. I like the idea of a unbiased "coach" telling me what I need to do at a reasonable price. I like the free trial to check out their designed portfolios.
The main problem that I see with this service is that people are lazy. I know I am. I read and write about personal finance every day and even I only rebalance my portfolio at most a few times a year. To do this, I made my own Google Docs spreadsheet and check in every quarter by just adding up all my holdings in each asset class.
I don't like the idea of having to enter every trade that I make manually. I make lots of trades every month, through various accounts including 401k purchases. I feel that MarketRiders should license the same aggregation tools that other sites use (like Personal Capital) to see my portfolio details without any manual entry. Otherwise, I don't like the idea of paying $150 a year to do something I've already been doing on my own for free with roughly the same amount of time and effort.
If MarketRiders seamlessly synced with all my brokerage accounts and saved me time and effort by telling me when to rebalance things inside my entire portfolio spread across IRAs and 401ks and Solo 401ks, I think I would pay $99 a year in exchange for that service (if only as a double-check to my current practices). But with all the extra work required, it's hard for this DIY investor to justify the price. I really hope they take my advice on adding account aggregation.
For the same reasons, I think the newbie investor would rather go with Betterment or a Vanguard Target Retirement fund instead as well. MarketRiders charges $150 a year + commissions, which is much more than Betterment would charge until you reached portfolio sizes of well over $60,000.