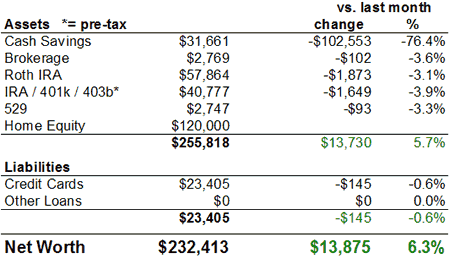 "Good" Credit Card Debt
If you're a new reader, you may have some concerns about my high levels of credit card debt. I'm actually taking money from 0% APR balance transfer offers and instead of spending it, I am placing it in high-yield savings accounts that actually earn me 4% interest or more, and keeping the difference as profit!

Along with other deals that I blog about, this helps me earn extra side income of thousands of dollars a year. Recently I put together a series of step-by-step posts on how I do this. Please check it out first if you have any questions. This is why, although I have the ability to pay the balances off, I choose not to.
Cash Savings, Home Purchase
If my posting has been a bit light lately, it has been because I've been bogged down by a combination of illness, travel, and the home-buying process. Also, I didn't want to do it in real-time because there were some snags along the way… but we've finally closed!! I have lots of house-related posts coming about mortgages, inspections, and so on… but first here are a few details that will help explain this net worth update.
| | |
| --- | --- |
| Purchase price | $600,000 |
| Down payment (20%) | $120,000 |
| Discount points paid (1%) | $6,000 |
| Buyer's agent rebate (1.5%) | $9,000 |
| Closing Costs | ~$3,000 (rest paid by lender) |
Our purchase price of $600,000 was more than the $500,000 we estimated we wanted to spend a couple years ago, but we are now in a 4-bedroom single-family home that we can see ourselves living in forever. In addition, we didn't stretch too far as we can handle the mortgage payment on either one of our incomes.
We believe we got a good deal even though the short-term market looks bad, and the house has tons of potential. We're even going to rent out a room to a relative. Our home appraisal actually came in at $640,000 – we've been told an appraisal coming in higher than purchase price doesn't happen very much in this scared housing market. Using this value would actually leave our home equity at $160,000 instead of just the down payment of $120,000. However, I'm just going to be conservative and leave it at $120,000 for now.
As you can see, our 50% buyer's agent rebate helped offset our closing costs and the points on the loan. Of course, mentally we are using the $9,000 rebate towards all the home improvement projects we have brewing. 😉 Finally, adding back in the $5,000 earnest deposit that I had marked as spent last month makes the numbers look a lot better than they really were.
Emergency Fund?
Our net cash balances have taken a big hit to less than $10,000, and that makes me nervous given that our monthly expenses just shot up drastically. Our foreseeable mid-term goal will definitely need to be to build up a proper emergency fund, which we've never officially had since we basically treated our downpayment funds as such. Visiting Brazil and Australia will have to be placed on the backburners for now…
Retirement and Brokerage accounts
February is the fourth month is a row that our IRAs and 401k/403bs have dropped by 3%. We may need to start setting up some regular monthly investments in order to help force ourselves to keep investing.
It's been a wild month! You can see our previous net worth updates here.