FON is a company with an interesting idea: What if everyone shared their WiFi with each other? We could all get internet coverage in much of the world for free. But what about the bad people? FON has developed routers that have both public and private channels to allow people to share without worrying about their own privacy. There are still other worries, but considering how many people already have wide-open access points, I don't think it's too horrible. Sometimes they charge a one-time $30 fee for the special routers, and sometimes it's free.
In addition to allowing the "sharers to share", you can also pay for access to their network. Finally, there is the entrepreneurial option – get a kickback for selling your own internet access. They'll even give you a free router to start. This is intended (on the honor system) for people who live near a Starbucks or other busy gathering space.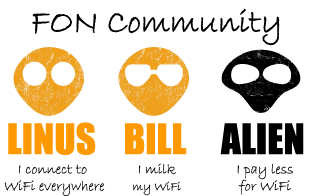 By installing your FON router, you let others share your broadband for a daily fee. A fee that goes straight into your pocket. A savvy patron of your Starbucks need only pay $2 a day for your WiFi. They'd have to be a grande drip to pay the [regular T-Mobile fee of] $10 Starbucks charges. Each customer who chooses you puts $1 into your latte fund. Cha-ching.
I think their new software even lets you decide how much bandwidth you want to "rent" out, so you won't be stuck with molasses. Pretty slick! Thanks to Torger for the tip.