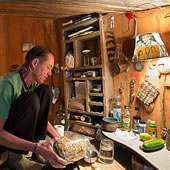 Can a person live in the US on only $5,000 a year? According to this NBC News article and this Youtube video, Dan Price has been doing it for 20 years. I enjoy these kinds of interviews as they reinforce the fact that we all make choices every day, it's just that most of them are the "default" choice. I like being presented with people who make different "opt-out" decisions, even if they are extreme. The article uses terms like "intentional poor" and "voluntary poverty". Why not just "conscious simplicity"? I enjoyed this quote:
I don't believe in houses or mortgages. Who in their right mind would spend their lifetime paying for a building they never get to spend time in because they are always working?
Lessons and takeaways from Dan Price's $5,000 a year lifestyle:
Lifestyle-based income. His rare lifestyle partially funds itself as the "wilderness zine" described in the article is simply a print journal of his own thoughts and activities (remember those things before blogs?). Sponsors also provide things like tents and clothing in exchange for mentions in his journal. A brief search locates his website: Moonlight Chronicles. (It annoys me when articles don't just tell you these things.)
Rent. He managed to find a place that only costs him $100 for entire year. I gather that in exchange he also serves as a caretaker for the 2-acre undeveloped plot of rural land in Northeast Oregon. Deals like this are never advertised; nobody lived there and he asked the owners directly. He rebuilt all the fences and helps maintain the property.
Shelter and transportation. He dug/built his own "hobbit hole" (a 8 ft. diameter room with 4 ft. ceilings) with $75 in bought materials and the rest recycled/scavenged. Check out the 360° panoramic photo and photo slideshow (also see captions). The video shows that he also made himself a work studio, bathhouse, and garage for his recumbent bicycle (free via sponsorship for a cross-country ride).
Electricity? The article is somewhat vague here. He has no refrigerator, but I see a power strip and electric hot plate in his hobbit hole. The article doesn't say where he gets electricity from or how much he pays for it. It is possible that he rigged up some sort of photovoltaic solar panel + battery system, but you'd think the article would have mentioned it if that was the case.
Water and bathing. He has no washer or dryer, so he does laundry in a nearby river. I read elsewhere that his bathhouse is basically a sauna and he washes off in the river with biodegradable soap. I guess he just buries his poop, camping-style? No water bill, no sewer bill, no hot water heater.
Technology. He owns a Macbook, iPad, iPhone, and pays $53 a month for his cell phone plan (13% of annual budget). I guess his internet connection is via iPhone or other free sources.
Health insurance. Not surprisingly with such a tiny budget, he has no health insurance. Like most people without insurance, he still gets emergency care when needed without upfront payment (as required by law). He negotiated a payment plan with the hospital for a previous $3,000 kidney stone bill.
Hawaii in the winter. I couldn't find any details about this besides the idyllic idea of "surfing in Hawaii every winter". Where does he stay? A plane ticket of $500 would comprise 10% of his annual budget. I doubt he does credit card travel bonuses. 😉
After reading the many comments, I saw that lots of people are getting hung up on this part:
Then he learned about what he calls "the simple life." Price read Payne Hollow, a 1974 book about author Harlan Hubbard's rejection of modernity and his primitive home on the shore of the Ohio River. Price's marriage dissolved soon after, and the whole family moved to Oregon, where he grew up. Price opted to move alone into a tiny cabin in the woods, then a flophouse, then a teepee, and finally into an underground "Hobbit hole" on a horse pasture near a river, where he still lives.
They assume that this means he's a deadbeat dad, but that is all you can do – assume. I don't know if he is or not. The point is not to make this guy a moral role model, but instead to point out specific ways that he chose an non-mainstream alternative. There are plenty of deadbeat dads out there, many of whom spend a lot more than $5k a year. Why waste your time judging him on that possibility. Instead, focus on the stuff than can expand, improve, and provide perspective on your own life choices.