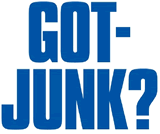 Yesterday, I posted a 9-month update on my $10,000 P2P lending portfolio with loans from Prosper and LendingClub. Every so often it is pointed out that lending unsecured money directly to random people at high interest is not very safe, and you could just invest in junk bonds from shakier companies instead.
"Junk" bonds, also known as High Yield bonds, are bonds from companies which have earned a credit rating from one of the major rating agencies that is worse than the "investment-grade" tier. Perhaps the company already has a lot of debt, or its balance sheet is otherwise worrisome. Bonds from some pretty big and well-known companies have been rated junk from time to time.
This is not a detailed analysis and not even technically an apples-to-apples comparison, but I ran some quick numbers to satisfy my own curiosity. The iShares iBoxx $ High Yield Corporate Bond ETF (HYG) is the largest high yield US corporate bond ETF, with over $15 billion in assets and an expense ratio of 0.50%. Here's a chart of the credit rating breakdown of the portfolio, taken from their latest Q2 2013 factsheet.
HYG tracks an index of high yield corporate bonds and has an effective duration of 4.26 years. I note this because both Prosper and LendingClub have 3 and 5 years loans, making them in the same ballpark assuming you continuously reinvested your interest into a ladder of loans.
If you bought $10,000 worth of HYG on the 11/1/2012 closing price of $92.54 a share, you'd have 108.06 shares. To simplify the math, let's just say you can own fractional shares with your broker, you held the entire time, and you just kept the interest instead of automatically reinvest dividends. Though 8/11/2013, each share distributed $4.367 in interest. Times 108.06 shares, that's $471.90 in earned interest. At the close of 8/9/12, HYG's share price was $91.57.
Therefore, your 108.06 shares would now be worth $9,895.05, slightly less than your original $10,000. Adding in the interest earned, your total would be $10,366.95. If you reinvested dividends, your total would have been a few dollars higher.
To get an idea of volatility, here's the price chart for HYG from 11/1/12 to 8/9/13, taken from Google Finance.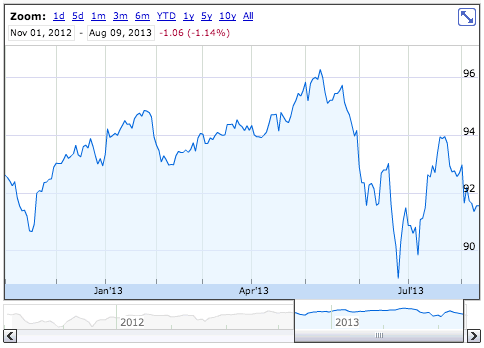 The total from my Prosper and LendingClub balances from the same time period was 5,325 + 5,264 = $10,589. Again, this isn't a proper comparison because this value doesn't necessarily represent the value of the P2P loans on an open market. It appears that HYG was hurt a bit by rising interest rates. I don't know if this would affect how much people would pay for my Prosper or LendingClub loans on the FolioFN secondary market. The only way to find out would be to actually sell them, although maybe there is a way to make a good estimate.