We decided to actually light up our house a little more this year, and were quickly faced with a decision: LED or old-school incandescent lights? Would the electricity savings of the LED lights make up for the added cost? Or is it purely an eco-friendly play? Then we realized that the true eco-friendly thing to do would be not to light up our house. Bah-humbug! Anyhow, some quick research led to the following energy savings comparison:
Factors
Amount of electricity used. Looking at the box of regular incandescent lights, they use 40.8 watts per 100 light strand (0.0408 kW). The 100-light strand of LEDs used 8 watts (0.008 kW). You should be able to find these on any box of lights, especially the traditional kind as they can draw too much current if you connect too many together.
Cost of electricity. Here is a link to the average cost of electricity by state. The nationwide average is 12 cents per kWh (kilowatt-hour), but can range from 9 cents in some states like West Virginia to 28 cents in Hawaii.
Time used. How many days x how many hours per day do you plan to run the lights. I figure 45 days from right before Thanksgiving until a little after New Years. From sunset to bedtime is about 6 hours. So that's 45 days x 6 hours = 270 hours.
The Numbers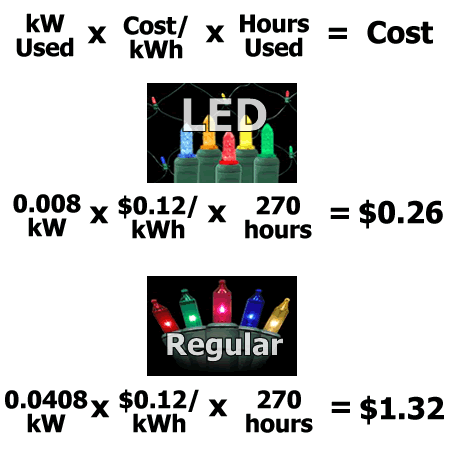 Conclusion
Using these numbers, it would be reasonable to say that each 100-light strand would save $1 in electricity per year. Costs will vary, but I saw a set of 100 of cheap incandescents for under $3 at the megastore, while the cheapest 100 LEDs cost closer to $12. The means it would take nearly a decade to break even on purely a electrical savings basis. Given my natural talent in creating tangles in these string lights, I don't know if I can see them lasting that long. You definitely aren't going to save the world by buying LED holiday lights.
If you already had a set of incandescents, I can't imagine being able to justify throwing them out for a new set of LEDs, since even the LED lights are mostly made out of plastic and thus fossil fuels. Since we didn't have any lights to start with, we just decided to buy a set of each (LED & old-school) to compare the "light quality". The brightness of the two modern sets we bought were comparable, and look very similar from a distance.
Now, I've also seen the solar-powered LED light kits, but from the package they use less than 3 watts of energy, which means they are significantly dimmer. However, the lack of power plug does make it mighty convenient.