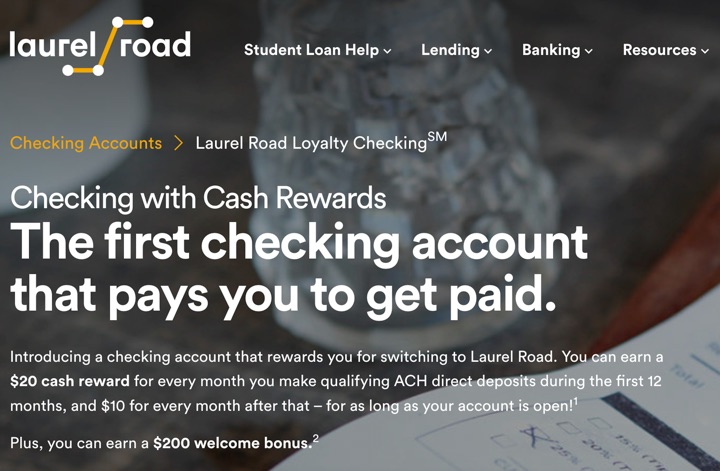 Laurel Road is a digital brand of KeyBank that reminds me of SoFi in that they are building a relationship that starts with student loan refinances when you are young, and then expands as you grow older and need new services. They have special products targeted at doctors and nurses including student loan refinances, personal loans, mortgages, bank accounts, and other products like a credit card that earns 2% cashback towards student loans.
The Laurel Road Loyalty Checking Account is available to the general public and has a few interesting features:
$200 welcome bonus when you open a Laurel Road Loyalty Checking account by 06/30/2023 at 11:59 p.m. (ET) and make one or more qualifying direct deposits via an Automated Clearing House (ACH) transaction into the Laurel Road Loyalty Checking account totaling at least $2,500 within the first 60 days after account opening.
$20 cash reward for every month you make qualifying ACH direct deposits of $2,500+ each statement period during the first 12 months ($240 total), and $10 for every month after that – for as long as your account is open.
No minimum to open. No minimum balance. No monthly fees.
Here is the fine print on the $20 monthly bonus:
Primary account holder is eligible to earn monthly rewards of $20/month from the second through thirteenth statement periods, which is considered your "first year." From the fourteenth statement period onward, the eligible reward will be $10/month for as long as the Laurel Road Loyalty Checking account ("Account") is open. To earn monthly rewards, you must make qualifying Automated Clearing House (ACH) direct deposits into the Account totaling at least $2,500 during the statement period. Qualifying ACH direct deposit transactions include most payroll, Social Security, pension and government benefits deposits. Rewards will be deposited into your Account in the statement period after they are earned. Only one Loyalty Checking account per primary account holder. Cannot be combined with other checking bonus, reward, or rate discount offers, excluding any promotional offer for opening the Account. The value of the monthly rewards will be reported to the IRS on Form 1099-INT. Accounts closed within first 180 days will be charged a $25 early closure fee. Accounts closed at the time of monthly rewards payment are not eligible. Offer is subject to change without notice.
I appreciate the simple bonus structure, and KeyBank has been flexible on what counts as a direct deposit in the past. Note that this checking account pays essentially zero interest (0.01% APY as of 4/5/23), but you don't have to keep your $2,500+ direct deposit there after it arrives in your checking account. You can spend it as needed or move it into savings elsewhere. Laurel Road themselves also offer a High Yield Savings account that pays 3.50% APY (as of 4/5/23) that also has no monthly fees or minimum balance, so easy enough to at least move it there for a bit.