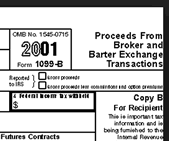 I never file my tax returns too early. The last time I did so, I had to file an extra amended return as my stock brokerage sent me a late corrected 1099 form shortly afterward. What a hassle. It seems that every year one of these forms shows up in my mailbox in March. Indeed, TD Ameritrade just send me an e-mail today (2/25) that a corrected 1099 is on its way. Why?
IRS mailing deadlines
The official IRS mailing deadline for 1099-B forms (reporting sales from brokerage firms and mutual fund companies) is normally February 15th. This is 15 days later than the mailing deadline for most other tax forms like W-2s. However, this year February 15th falls on a Saturday and Presidents Day is Monday, February 17th. This results in the adjusted mailing deadline being Monday, February 18th, 2014.
So how can they arrive even later?
Many brokerage firms will only send a "preliminary" 1099 by this date to satisfy the IRS requirement. Because some securities (commonly certain REITs or foreign stocks) may not report their numbers to the broker in time, brokers often delay sending out their corrected or "final" 1099 until a month or more later. So while I start preparing my return ahead of time, I usually wait to file until I'm confident that all my 1099 forms are finalized.
In my case, it was the Vanguard REIT ETF (VNQ) that caused my corrected 1099 form.