Passion can actually be a controversial subject when it comes to the early retirement / financial independence discussion. If you truly love your work, then why ever stop working? Alternatively, what if your passion is racing cars or playing basketball? The odds of making a living doing either is very slim. So is the answer to maximize yourself financially (even if you hate it) until you can pursue your passion in retirement?
Ken Robinson is an Professor of Education who argues that passion and creativity are the key for transforming education and the economy. He wrote a book called The Element: How Finding Your Passion Changes Everything that expands on his views and also includes many stories of people finding their passion. I find his ideas interesting and added this book to my reading queue.
Of all places, I learned about Robinson in an interview inside Costco's monthly magazine for members (emphasis mine):
Costco Connection: Can you define what you mean by finding one's element for readers who haven't read your book The Element?

Ken Robinson: The element is finding that point where talent meets passion. Both are important. If you're in your element, you're doing something for which you have a natural aptitude. You get it. I'm not suggesting that you have to be the best in the world or the best in history, but you get it and you have a natural feel for it.

I know people for whom that's true in every type of work. Aptitude takes many different forms. But being good at something is only part of this. To be in your element, you really have to love what you're doing. If you love something that you're good at you never "work" again. And you can tell. If you love something, time changes when you're doing it. An hour feels like five minutes. But if you're doing something that you don't care for or doesn't resonate with your own particular energy, then five minutes feels like an hour.
I really like this idea of time relativity (having it fly by also known as a "flow" state) as it really applies to me and many activities. It also reminds me of the following Venn diagram: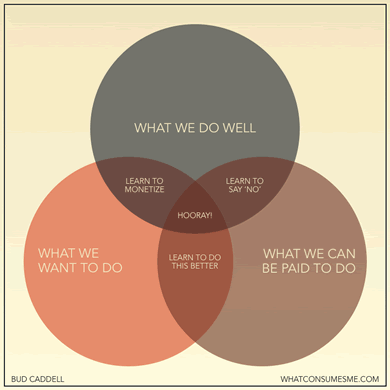 Finally, watch or listen to Robinson's related TED talk about how schools kill creativity.