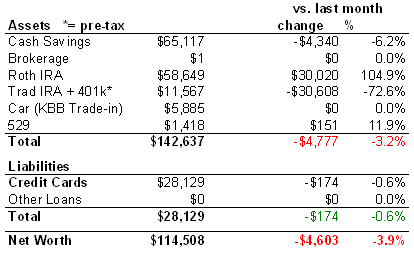 About My Credit Card Debt
Newer readers may be alarmed by my high levels of credit card debt. In short, I'm borrowing money for free and keeping it in safe investments while earning me interest. Along with other things, this helps me earn extra side income of thousands of dollars a year. Recently I put up a detailed series of posts on this 0% game. Please check it out first if you are curious!
I like to think of it as similar to what banks do. For example, Capital One 360 is paying people 0.75% interest to hold their cash, and then going out and lending that cash as mortgages to other people at 6-8%. My rate spread is even a bit better than Capital One 360, although they do have a slight edge in volume… a mere $50 Billion or so 😉
Thoughts
Our net worth chart looks a bit confusing due to our recent Traditional to Roth IRA conversion. Due to my lack of good accounting skills, I am still unsure what our total income picture will be this year. I just converted the whole amount now because I can still undo all or part of it before I file my taxes.
For now, this leaves us with $30,000 more in taxable income for this year. Although I don't have to pay taxes on it yet, I've gone ahead and removed $7,500 (25% of $30,000) out of our cash balances. This has caused our net worth total to drop for the second time ever since starting this blog, but it's really just superficial. The tax liability has always been there.
This move also leaves us with less cash for a house down payment, but I think it's the right move for the long run. We still have over 6 months left to save this year, and we won't be making any Roth IRA contributions until our 2007 income picture becomes clearer. (In other words, we need to find jobs!)
Which reminds me… These net worth snapshots are just an easy way for us to keep an eye on our finances. They are not proper income and expense balance sheets, and shouldn't be used for comparison with others. All I do is log into Yodlee's account aggregation, grab some numbers, and enter them into a simple spreadsheet.