Besides being the tax return deadline, Monday April 18th, 2016 is also the last day to make a contribution to a Traditional or Roth IRA for the 2015 Tax Year. For both the 2015 and 2016 Tax Years, the maximum annual contribution limits are $5,500 (if under age 50) and $6,500 (if over age 50).
Vanguard has a whitepaper called Are you an IRA superstar? that examines investor behavior when it comes to IRA contributions. Their teaser line was that only 3% of IRA investors contribute consistently over time, maximized their annual contributions, and made their contributions early in the year. Here's the graphic they provide: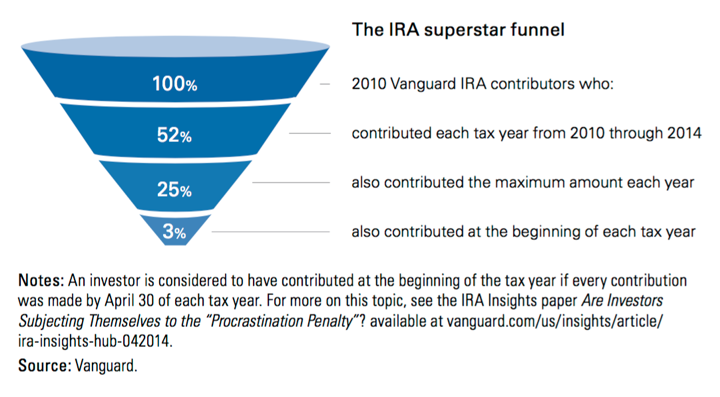 Here's how I would summarize the results:
Out of Vanguard IRA contributors in 2010, roughly half continued to contribute every year for 5 years (2010-2014).
Out of those 5-year "consistent" contributors, roughly half contributed the maximum allowable amount every year.
Out of those 5-year "consistent maximizer" contributors, only 1 out of 10 contributed early on in the year, every year (by April 30th).
I must admit that even though I have maxed out my IRAs for over a decade, I don't always contribute early on in the year. I am a procrastinating, consistent maximizer. I was surprised that 9 out of 10 people in a similar situation also waiting for longer than they need to. The contribution window spans from January 1 of the tax year and closes on the following year's April tax-filing deadline. Are we foolishly and voluntarily giving up money due to a "procrastination penalty"? Our contribution patterns seem to suggest that we do like to wait until the last minute: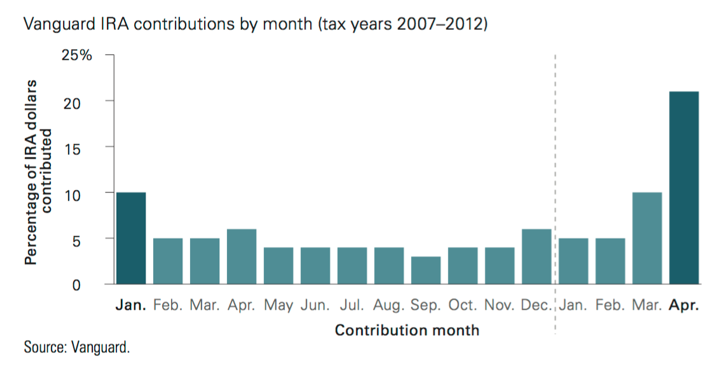 Upon further thought, one possible reason not mentioned in the Vanguard article is that people may not know if they qualify for IRA contributions due to income restrictions, or if they will need to perform a non-deductible Traditional IRA (to later convert to Backdoor Roth IRA). You may not know your modified adjusted gross income until your tax return is done, which might not be until March or April of the following year. To prevent having to undo anything, you might want to wait. Or we're just lazy. 🙂