With all of the current government spending, future promised spending, and the huge trillion-dollar budget deficit, there is a lot of talk about impending inflation. Many people are convinced that there is going to be a tax increase as a result, regardless of your political affiliation. However, this reminded me that we shouldn't forget that the government can increase taxes without ever passing a bill, making you a new line on your IRS 1040 form, or even telling you about it. It simply has to keep pumping more money into the system.
The Wikipedia entry on "inflation tax" focuses on the idea of increasing prices and devalued currency as a increasing burden on people. But rising inflation itself is a hidden tax increase.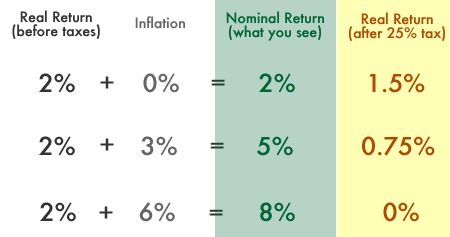 Let's take a simple investment like a savings account or a bond earning an interest rate of 2% a year, but there is no inflation. Income tax is 25%. So you grumble about your low interest rates, pay your 2 x 0.25 = 0.5% in taxes, and keep the other 1.5% as your after-tax "real" return.
What if inflation is 3%, but you are slightly happier because you're earning 2% above that for a total of 5%. Income tax stays the same, 25%. But now you're paying 5% x 0.25% = 1.25% a year in taxes, and after 3% inflation you are left with 0.75% as your after-tax real return. Even worse.
Finally let's say that inflation is now 6%, and you are still earning 2% above inflation. Income tax again is based on your nominal income, so you're stuck paying 25% of that 8% interest. This leaves you earning 2% above inflation pre-tax, and then going and paying 8 x 0.25 = 2% in taxes. Your after-tax real return is now zero. You're not making any money, it all went towards taxes.
All this could happen without ever raising the official income tax rate. This fact is sometimes brought up when talking about inflation-indexed bonds, but applies the same to all investment returns.