Catherine over at Visualizing Economics has another nice graphic on Housing Quality and its effect on Home Values. In the top chart, she shows how inflation-adjusted median home values have increased due to the fact that the median home has changed (bigger, better plumbing). This is in contrast with the popular Case-Shiller home price chart, which tracks the inflation-adjusted resale value of a fixed-size house in large metro areas.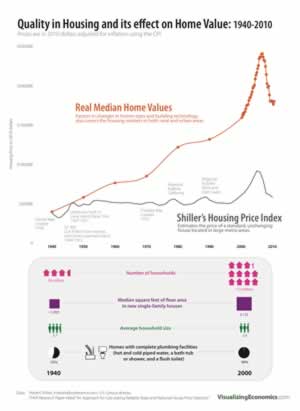 Click to view full image
It's a different view of things, but the Shiller chart still shows that my house's value probably won't increase much faster than inflation over time (my house isn't going to magically grow in size). That doesn't necessarily mean someone shouldn't buy a house though, because I can pay off my house, while rent also increases with inflation.
What I also found interesting was something I've noticed before – how the average household has gotten so much smaller, even as houses keep getting larger and larger. From 1940 to 2010, the amount of square feet per person has tripled in size.

25% of the houses were already built in 1940, so today's new houses being built are bigger than the median 2,135 sf. Oops, misread that, 2,135 is for new houses. I did find that the median size of new houses actually dropped from over 2,300 sf recently. Do we really need all that space? Or perhaps going a bit smaller might be another area that people can be frugal and maximize value?