Housing bubble concerns aside, we're starting to look at some homes on the internet to get an idea of what prices are like right now. One thing we need to decide is what size of place to look at. I was going to title this post "How big a house do we really need?", but I realized that too often the word "need" is used when we really mean "will be satisfied with as the spoiled people that we are". 🙂
I mean, I spent the majority of my childhood living in an 800 sq. ft. apartment that is smaller than where we live now with half the people. And now I'm complaining about clutter! What happened?
There's also been some rumblings about the backlash against so-called McMansions, so I decided to look up some stats on average home sizes versus the average number of people in the household. The results were very surprising to me: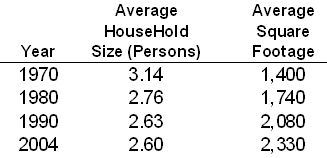 Source: U.S. Census Bureau
So from 1970 to 2004, the average household shrunk by 27%, but the average square footage grew by 66%. (Using median numbers gave similar results.) Now numbers can be misleading, but just by looking at the layout of older houses, people really do seem to expect more space now.
Right now it's just the two of us. Kids are a big unknown, it could be a couple years, it could be more. Hard to predict. Our parents are also hinting that we should have an extra guest room too (ahem). Initially, we are looking at detached homes of about 1,500 square feet, which usually results in a kitchen, one living room, one dining area, 3 bedrooms and 2 baths. No formal dining rooms, family rooms, or other such extras. Since I want one room to be a home office, that leaves one bedroom for us and one flexible bedroom that could be a guest room or for children someday. In the future, I could conceivable make the home office convert to a guest room at night
We know the "average" person moves in less than 7 years, but all of our siblings have settled down in their first homes. And the whole reason we are moving is to be near family, so this home might just last us a very long time. Still, we could go smaller and get a 2-bedroom condo for now. This would save some money now, but we'd have to move again later.
It's a tough decision! Homeowners: How did you decide how much space you wanted to buy? Was it limited to how much you could afford, what was available in the neighborhood you like, what your friends had, or other considerations? Did you buy what you need right now, or did you look ahead to the future?