With all these new online banks which are pretty much just virtual branches of a lot of regional banks, I thought it would be a good idea to look more into this whole FDIC insurance thing we put so much trust into. First some quick basics, taken from the FDIC website:
What Does the FDIC Insure?
The Federal Deposit Insurance Corporation (FDIC) is a government corporation that insures all deposits at insured banks, including checking and savings accounts, money market deposit accounts, and certificates of deposit (CDs), up to the insurance limit. Use this form to find out if your bank is insured.
How Much Does It Cover?
The basic insurance amount is $100,000 per depositor per insured bank. Certain retirement accounts, such as Individual Retirement Accounts, are insured up to $250,000 per depositor per insured bank.
Way To Increase Your Coverage
Since accounts at different banks are insured separately, the easiest way to increase your coverage is to simply keep less than $100,000 at any one bank. You could have $100,000 each at 500 different banks, and be insured for $50 million in total.
You may also qualify for more than $100,000 in coverage at one insured bank if you own deposit accounts in different ownership categories. For example, here is a way that a husband and wife could qualify for $600,000 in total insurance all at one bank: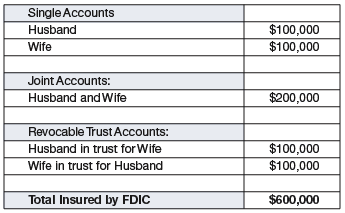 What Happens If My Bank Really Fails?
First off, I would note that the FDIC does not notify people that their bank is about to fail or has failed. The only way to you find out is when your debit card gets denied or you walk up to your bank and it has a new name. Here is a list of banks that have failed since October 2000, which includes a summary how it was handled.
The Finance Buff has a good post about what happens when your bank goes out of business. The example given is Metropolitan Savings Bank in Pittsburgh, which the FDIC took over just three months ago.
Here's the timeline: The FDIC announced the bank's takeover on Thursday. By Monday the deposits have been taken over by another bank, the branches were re-opened, and the insured people have access to their money again.
But, out of the $12 million in deposits in the bank, there were 30 account holders with total assets of $1.2 million not insured by the FDIC. Those people are now creditors to the receivership of the failed bank, and must wait as the FDIC liquidates the bank's remaining assets. Waiting on the light fixtures to be sold until you can get any of your money back? Not good.
The takeaways here are
Banks still fail, and without warning.
If your money is insured, it is unlikely any failure will interrupt access to your funds for long. Either another bank will take over (they all want more deposits), or the FDIC will pay out from their reserves.
Never exceed FDIC insurance limits, because you may never see your uninsured money again.