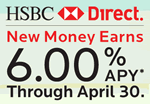 HSBC Direct is offering a promotional 6.00% APY on new money only between January 29, 2007 and April 30, 2007. This for both new and existing accounts. They are pretty restrictive on the meaning of "new" money, so you can't just take money out and put it back in and have it earn the promo rate.
Starting Balance means the available balance in your account as of the close of business on January 26, 2007. New Money means funds not previously held by any member of the HSBC Group deposited during the New Money Period less any withdrawals, and it excludes your Starting Balance as calculated below.
If you don't use HSBC, check out my Ultimate Interest Rate Chaser Calculator to help decide if it's worth the hassle to move money over. Currently most other similar online banks are earning about 5.00-5.25% APY. You're really looking at a maximum of 3 months of an extra 1% APY, after which most likely the rate will drop back down. This equates to roughly $20-$25 extra for each $10,000 you move in (the lower estimate takes into account the likely lost interest during transfer).
Added: Also see my HSBC Direct Review