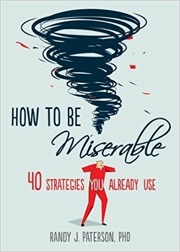 If you are a fan of Charlie Munger and his principle of inversion, you will enjoy this video by CGP Grey* about the 7 Ways to Maximize Misery. Sometimes the best solution to a problem comes by approaching it backwards. Found via Abnormal Returns. Briefly, here are the 7 ways:
Stay still.
Screw with your sleep.
Maximize your screen time.
Use your screen to stoke your negative emotions.
Set V.A.P.I.D. goals – Vague, Amorphous, Pie in the Sky, Irrelevant, and Delayed.
Pursue happiness directly.
Follow your instincts.
Charlie Munger himself might add two more things:
This is according to his 2007 USC Law School Commencement speech:
Let me use a little inversion now. What will really fail in life? What do you want to avoid? Such an easy answer: sloth and unreliability. If you're unreliable it doesn't matter what your virtues are. Doing what you have faithfully engaged to do should be an automatic part of your conduct. You want to avoid sloth and unreliability.
It can be surprisingly instructive to know that we can become happier by simply avoiding these common behaviors. There are even more – the video is based on the book How to Be Miserable: 40 Strategies You Already Use by Randy J. Paterson. Added to my long to-read list.
* I referenced another CGP Grey video in my post Why Didn't Technology Create a 4-Hour Workday? and why the solution is to accumulate assets towards financial freedom.