There are a variety of reasons to get higher credit card limits, including improving your credit score by using a lower percentage of your available credit, and also the ability to get more free money from credit cards, and thus make more interest. Some people say there are disadvantages too, but it's really easier to decrease your credit limits if somehow you need to.
Sometimes your issuer will automatically increase your limits without asking, like Citibank and MBNA. But many times you need to ask and it often involves a credit check. To be honest, I haven't very aggressive recently in getting my credit limits as high as they could be. The only thing that I do, because it literally takes 5 seconds to do, is to occasionally request an instant credit limit increase online with Citibank. It doesn't even hit you with a hard credit pull! Here's how:

1) Log in your Citibank account
2) On the menu bar, go to Manage My Account > Credit Line Increase Request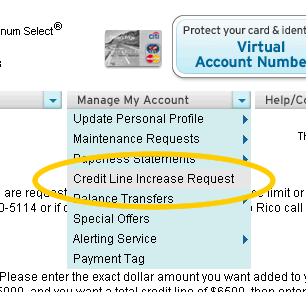 3) After that, you'll get one of two screens. Either you'll be instantly approved or you'll have to ask for a manual review.
a. Instantly Approved – Your account will be instantly analyzed and you'll be offered a specific increase to your current credit limit. Here's my results from my Citibank Card (click to enlarge):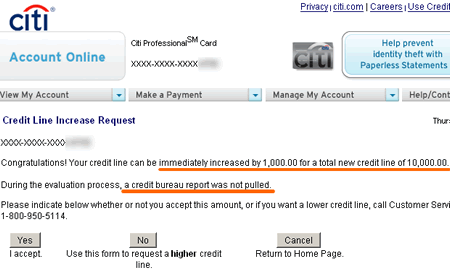 I got an extra $1,000 to $10,000. Note that it clearly states no credit report was pulled. You can either accept, decline, or ask for a higher increase. Asking for a higher increase is the same as…
b. Manual Review – Here, in order to get a limit increase you'll have to restate your income and even list some bank account information so they can check your balances. A hard credit pull is also required if you agree to a full review. If you decline then nothing happens.
You can usually get an "free" increase about once every six months. Being rejected usually means you asked already too recently. I usually just try whenever I remember, like today, since rejection does no harm. I'm currently collecting information about the other card issuers.