US News has an article on The Most (and Least) Prestigious Careers using data from a Harris Interactive poll: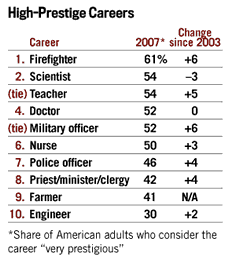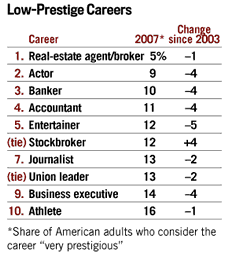 The article notes that the least prestigious jobs tend to be higher paying than many of the more prestigious jobs. I did find it amusing that "real estate agent" was on the bottom of the list, even below "actor" and "accountant". Are people grouchy about their house value dropping or what?
Personally I don't really place prestige very high on my list of important factors in choosing a job… I usually just tell most people I do "stuff with computers" and they just nod and move onto something else. But here's a good time give a shout-out to my friend Tom who just graduated from Fire(fighter) Academy!