I feel like my last post about rebalancing wasn't as thorough as I'd have liked it to be, so here I go again, adding some quick definitions and including a review of several research articles about the subject.
What is Rebalancing?
Let say you examine your risk tolerance and decide to invest in a mixture of 70% stocks and 30% bonds. As the years go by, your portfolio will drift one way or another. You may drop down to 60% stocks or rise up to 90% stocks. The act of rebalancing involves selling or buying shares in order to return to your initial stock/bond ratio of 70%/30%.
Why Rebalance?
Rebalancing is a way to maintain the risk/reward ratio that you have chosen for your investments. In the example above, doing nothing may leave you with a 90% stock/10% bond portfolio, which is much more aggressive than your initial 70%/30% stock/bond mix.
In addition, rebalancing also forces you to buy temporarily under-performing assets and sell over-performing assets (buy low, sell high). This is the exact opposite behavior of what is shown by many investors, which is to buy in when something is hot and over-performing, only to sell when the same investment becomes out of style (buy high, sell low).
However, in taxable accounts, rebalancing will create capital gains/losses and therefore tax consequences. In some brokerage accounts, rebalancing will incur commission costs or trading fees. This is why, if possible, it is a good idea to redirect any new investment deposits in order to try and maintain your target ratios.
How Often Should I Rebalance My Portfolio?
Some people rebalance on a certain time-based schedule – for example, once every 6-months, every year, or every 2 years. Others wait until certain asset classes shift a certain amount away from their desired targets before taking any action. A good source of research articles about which method is optimal can be found at the AltruistFA Reading Room. I've been reading through them the past few days, and I'll try to provide a very general overview of the articles here.
So what is best? You may be surprised by the fact that not only is there no clear agreement on the answer to this question, but many of the articles actually contradict each other! For instance, compare this Journal of Investing article:
Over this period, regular monthly rebalancing returns dominated less active approaches. Should one infer that daily rebalancing is better still? Our data cannot say, but it seems plausible.
with this excerpt from an Efficient Frontier article:
So, what can we conclude from all this? Monthly rebalancing is too frequent. There are small rewards to increasing one's rebalancing frequency from quarterly up to several years, but this comes at the price of increased portfolio risk.
Eh? I believe that this is because their results vary significantly with the time period chosen and asset classes being used in their back-tested scenarios.
Then there is this paper from Financial Planning magazine, which used the 25 year period from Oct. 1977-Sept. 2002 and a 60% Stock (S&P 500 Index) and 40% Bond (Lehman Bros. Gov't Index) as the starting/target allocation. Here are the results for various rebalancing frequencies: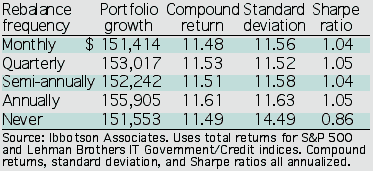 The various rebalancing periods showed minimal performance differences, although annual rebalancing held a slight return margin and a higher risk margin.

Because the risk-adjusted performance differences among the portfolios were small, the answer to the question of when to rebalance–monthly, quarterly, semi-annually, or annually–depends mainly on the costs to the investor of rebalancing.
Efficient Frontier's Bernstein also agreed in the this last respect, stating "The returns differences among various rebalancing strategies are quite small in the long run."
In the "wait for a significant shift before taking action" camp is author Larry Swedroe, who I think also presents a very reasonable solution. From a WSJ article:
With major holdings like U.S. stocks, foreign stocks and high-quality U.S. bonds, consider rebalancing whenever your fund holdings get five percentage points above or below your targets, suggests Larry Swedroe, research director at Buckingham Asset Management in St. Louis. For instance, if you have 40% earmarked for bonds, you would rebalance if your bonds got above 45% or fell below 35%.

Meanwhile, for smaller positions in sectors like emerging markets and real-estate investment trusts, Mr. Swedroe recommends a 25% trigger. So if you have 5% targeted for emerging-market stocks, you'd rebalance if emerging markets balloon above 6.25% or fall below 3.75%. "You definitely want to be rebalancing, but you don't want to be doing it too often," Mr. Swedroe says. "You want to let stocks go up a bit before you sell, but not so much that you lose control of risk."
Summary
Since it seems that there is no concrete right answer, I think the most important thing is to just make sure you set up some way to rebalance that does not involve any emotions or market timing. Don't worry about the details, but don't let your portfolio run off on its own either. I think the subtitle of one of the articles above sums it up quite well… 'Tis Better To Have Rebalanced Regularly Than Not At All.
I have personally chosen to rebalance annually. This method keeps it simple while still controlling risk and offering potential extra return. If I recall correctly, it is also recommended in Ferri's book All About Asset Allocation (review).