I understand that revealing our net worth is not enough to fully explain our entire financial picture. That is by design; I like keeping the picture fuzzy. Blogs are very hard to keep anonymous, and I've been doing this since 2004. This is why I continue not to share our respective salaries, occupations, employers, and geographical location. Besides, I am not here to be better than you, or the next dude. Anyone out there could earn more than me, save more than me, or spend less than me. I'm only trying to track our progress, and to consistently try to make our situation a little bit better each day.
But I'll give in a little bit. I think tracking expenditures is a good idea for everyone, so I might as well share what I have discovered. Besides, I've already revealed that our goal for an Emergency Fund is 6 months of expenses, or $30,000. That means my wife and I spend $5,000 a month? How? Here's the lovely pie chart:
Housing: We spend $3,500 a month housing, 70% of our total monthly expenses. (Note that this is not the same as 70% of income!) This includes principal, interest, taxes, and insurance (PITI). Yes, it is obscenely high. The median price of a home in our area is over $500,000, so don't go thinking we live in a multi-acre 5,000 square foot estate. At the same time, incomes here are also a lot higher, especially in certain fields. So there is a give and take.
Given that this one area skews the graph so much, I made another graph of all non-housing expenses: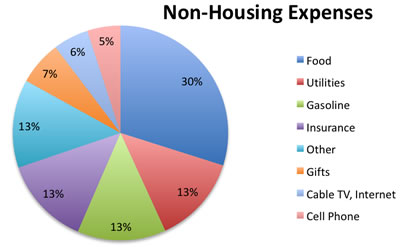 Food: $450/month includes both groceries and dining out. This is where the "fat" is in our spending, and we know it. We love food and do our best to "consciously spend" and enjoy every dollar put into this pleasure. I'm okay with making many simple foods at home, but I still go out when I want to eat freshly baked naan, perfectly seasoned pad thai, authentic pizza, or hand-wrapped tamales.
Insurance: $200/month includes two cars and umbrella liability insurance policies. Our deductibles are $1,000 to keep costs low, but our liability limits are high ($250,000/$500,000) due to the requirements of the umbrella policy.
Utilities: $200/month includes electric, gas, sewer, and water. Gasoline: $200/month. Cable TV + Internet: $80/month. Cell Phones: $75/month for two lines.
Gifts: $100/month. This might be somewhat unique to us, but given our big family events like birthdays, weddings, graduations, usually end up costing us $100 per month.
Other: $200/month usually covers the other smaller categories including clothing, entertainment, and pet expenses.
That ends up with the total being $5,005 per month. $3,500 to housing, $1,505 to everything else. Health insurance is provided by our employers. Non-monthly expenses like home improvement projects, travel, charity, car purchases/depreciation, or medical procedures are not included.