When you look at price quotes on mortgages, you should always note both the rate and the points. A discount point is one percent of your loan. So paying 1 point on a $200,000 mortgage costs $2,000. Usually this is paid upfront as part of your closing costs, but some people also finance their points (roll it into an existing or new loan). The more discount points you pay, the lower the interest rate on your mortgage.
For example, here are some quotes that I pulled up today for a $400,000, 30-year fixed-rate loan:
| | | |
| --- | --- | --- |
| Loan | Rate | Points |
| #1 | 5.000% | 3.326 |
| #2 | 5.500% | 0.965 |
| #3 | 5.625% | 0.461 |
| #4 | 5.750% | 0.000 |
So you have to ask whether you would you rather pay
a higher amount upfront + lower monthly payments?
or a lower amount upfront + higher monthly payments?
The general logic is pretty simple. Let's say your local gas station asked you to pick between these two scenarios for buying gas:
$100 upfront + $2 per gallon.
Nothing upfront + $3 per gallon.
You could probably do the math pretty quickly to see how many gallons you'd have to buy to break even. After that point, you'd be happily buying cheap gas and saving more money each subsequent fill-up. But if you don't use much gas or might move away from the gas station soon, you may never reach that point and never make back your upfront outlay.
In reality, there are additional complications like "what would my unused money be earning?" and "what about tax-deductions?", so the easiest way to do this calculation with mortgage rates/points combos is to use an online calculator like this one at the Mortgage Professor.
Let's use it to compare Loan #1 and Loan #4 above. I put in the following info: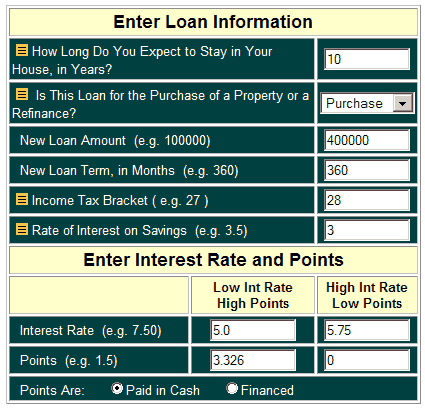 …and receive these results:

Taking Points or Not: Will You Keep Your Mortgage 4-6 Years?
So if you keep the loan less than 4.83 years, you won't quite make up your upfront points paid. But after 4.83 years, each monthly payment you make will mean you saved more money over the higher rate loan. ($10,000 after 10 total years in this case.)
So the question is – how long will you stay in your home? The weird thing is, almost all loan rate/point combos that I've seen give you a break-even period of about 4-6 years. Even if you take as little as 0.50 points. So that's the magic number. More or less than about 5 years?
I've read stats that say the average mortgage lasts about 7 years. But you should know yourself better than some average. Is this a starter home? How stable is your job? Are you rooted to the area due to family or other reasons? If you think you'll stay less than 5 years, don't pay points.
How Many Points? Well, How Confident Is Your Guess?
Now let's compare Loan #1 and Loan #2, only have a difference of about half a point. The breakeven period is now 4 years, with only a $2,187 advantage over 10-years. So here both the risk and potential reward is less. If you're wrong and you move earlier than 4 years, you might be out a thousand dollars or so. But even after 10 years, your advantage would only be about $2,000.
So, the more points you pay, the bigger the bet you make that you'll stay past the break-even period. You could pay 4+ points or more if you really wanted to.
Update: As commenter Ted has pointed out, paying points also reduces your ability to refinance to a lower rate mortgage before that break-even period. So room for rate drops should also be put into consideration.
As for us, we definitely felt that we were going to stay longer than 5 years, but didn't want to "bet" that many points. So we ended up paying 1 discount point to lower the rate on our loan to 5.625% at the time. I really don't expect for rates to drop far enough lower so that a refinance would be worth it, but I could be wrong.
Finally, you should always compare different rate quote combos from different lenders. One lender might not have the best zero-point loan, but might have a relatively awesome 2-point loan. Don't be afraid to ask for additional rate/point combinations if you don't get them at first.

The post is a new addition to my Experiences in Buying A Home.