From Washington, D.C. to New York City, from Atlanta to Portland, a huge part of finding a house is balancing the desire to have a shorter commute to work and the higher price tag that inevitably comes with it. Some people live farther away to spend less, while others simply want more house for the same price. I know people who commute 2 hours each way, every day. They are not alone – According to the NY Times, the Census Bureau states that nearly 18 percent of New Jersey workers leave their homes before 6:30 a.m. every day. Nationwide, over 3.4 million workers take more than 1.5 hours to get to work one-way. That's a 95% increase since 1990.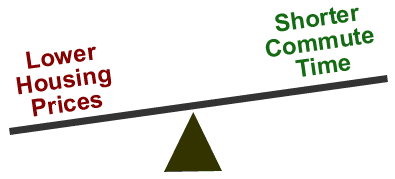 How do you strike a balance? It's easy to measure how the housing prices drop the farther you go out. Just look at the MLS listings. As one quote puts it – "Keep driving until you can afford it." However, it's harder to measure the many costs of a longer commute.
Increased Car Costs: Gas, Depreciation, Repairs, and Maintenance
The more you drive, the more all these costs add up. Let's say I want to move 20 miles further out. If I get 25 miles/gallon in commuter traffic and gas costs $3.50 a gallon, and I work 22 weekdays per month, that works out to an extra $120 per month in gas alone.
That also amounts to an extra 10,600 miles of driving each year. So more oil changes, more frequent repairs and other maintenance. Your car might depreciate faster by an extra $1,000 per year. That could work out easily at least another $100-$150 per month.
Treating Commute Time As Unpaid Work Time
Now what if we convert that commute time to actual paid working time. If you earned $30 per hour x extra 2 hours commuting per weekday x 22 weekdays per month x 12 months = $16,000 per year (essentially 25% more). Even if you don't get paid hourly, there is some value involved. Imagine if you used that time to perform better at work and impress your boss, or if you used it to start a business of your own.
Let's use the very rough multiplier that you can afford a mortgage that costs 3 times your gross income. Saving an extra $270 per month in car costs would let you theoretically buy $10,000 more house by living closer. Earning another $16,000 more per year would let you theoretically buy $48,000 more house. Earn $60 per hour, and that'd be $96,000. I just pulled some numbers from the air here, but the idea is simply that there hard costs involved with that longer commute.
Effect of Fatigue On Work, Family, and Happiness
Forget the extra wear and tear on your car, what about the extra wear and tear on you. If I had just spent two hours in traffic, by the time I get to work I'd be tired and ready for a break. My work quality would suffer. Then instead of arriving back home by 6 or 7 pm, now you're looking at 8 or 9 pm. You don't have time to cook, so you buy take-out. It costs more and is less nutritious for your family. You have less time to exercise, less time to play, less time to relax. You get the picture.
From the BusinessWeek article Extreme Commuting:
This is what economists call "the commuting paradox." Most people travel long distances with the idea that they'll accept the burden for something better, be it a house, salary, or school. They presume the trade-off is worth the agony. But studies show that commuters are on average much less satisfied with their lives than noncommuters. A commuter who travels one hour, one way, would have to make 40% more than his current salary to be as fully satisfied with his life as a noncommuter, say economists Bruno S. Frey and Alois Stutzer of the University of Zurich's Institute for Empirical Research in Economics. People usually overestimate the value of the things they'll obtain by commuting — more money, more material goods, more prestige — and underestimate the benefit of what they are losing: social connections, hobbies, and health. "Commuting is a stress that doesn't pay off," says Stutzer.
Got Public Transportation?
While not a complete solution, all of this gets reduced if you have decent public transportation. The costs are most likely lower than driving, you might get some work done en route, or at least you'll arrive less stressed. I've already noticed that housing near good public transportation commands a premium, and it should.
Our Experience
We really wanted to have a short commute, but we still ended up with a compromise like many others. We looked at houses that were 15 minutes from work and play, but they simply cost too much. So, we moved farther out where the houses were newer and cheaper. But thankfully not too far. Our commute is still about 45 minutes each way if we had to drive during rush hour. However, whenever we can we try to shift our hours earlier or later to make it more like 20-25 minutes. My main worry is that as time goes on the commute will only become longer and longer.