Housing prices. Are they still falling? Stable? Best time to buy ever?
Barry Ritholtz of The Big Picture thinks that housing prices have much further to fall. Here's part of his analysis:
Today, residential real estate confronts numerous headwinds: Credit, once given to anyone who could fog a mirror, is now tight. Hence, demand is far below what it was during the past decade. Home prices are still unwinding from artificially high levels, and remained over-priced. Inventory is elevated. Unemployment remains high. A huge supply of shadow inventory is out there: Speculators and flippers who overpaid but have held onto their properties await modestly higher prices to sell. Bank owned real estate (REOs) continues to increase. We are barely halfway through a decade long foreclosure surge.
He also shares some historical data from 1977 to 2010 that support his view. The top graph below is home price appreciation divided by rent as measured by CPI. If the ratio is rising, it means that home price appreciation is rising faster than rent. If the ratio is falling, it means that rent is rising faster than home price appreciation. Then there is the price/income ratio, illustrated by the bottom graph below. In both cases, we are currently still above the historical mean.
From 1977 to 2010, the median US home price was 4.1 times median household income. But as the chart below shows, Home prices are still above that mean. Oh, and that mean is artificially elevated due to the 2002-07 boom. Same with home prices relative to rentals, or housing value as percentage of GDP. Further, we should not assume that prices will merely mean revert back to historic levels. In most markets, a near 3 standard deviation price move is resolved not by reverting to the mean, but by by careening far below it.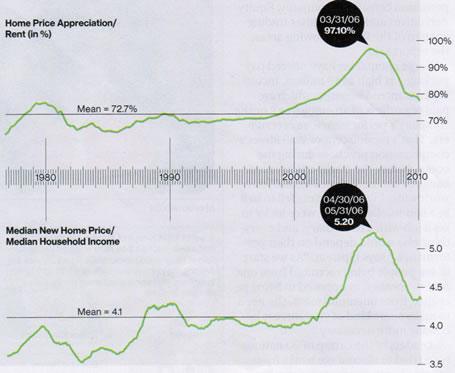 Data source: Ned Davis Research