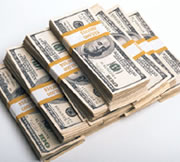 Bloomberg has a new article about how hard money loans to house flippers are the next asset class to be both crowdfunded and taken over by institutions. Like peer-to-peer loans and LendingClub, it may have started out with individuals lending to other individuals, but there is still a lot of money looking for higher yields and that means Wall Street is coming. The catchy title is now House Flippers Are Back Together With Wall St. What Could Possibly Go Wrong?.
First, a few quick terms and definitions:
Bridge loans, also known as hard-money or asset-based loans, give flippers cash for home purchases and construction with about a year to repay, and are backed by the real estate. […] Fix-and-flip investors have generally gotten funding from local private lenders as banks have shown reluctance to extend credit for speculative real estate deals. Borrowers are forced to pay high costs in exchange for the quick cash.
Next, some interesting stats:
[Hard money loans] represent an opportunity of about $30 billion in origination annually, according to LendingHome, an online mortgage marketplace that makes short-term loans and sells them to investment firms
The average gross profit for completed flips in the first quarter was $72,450, up from $61,684 a year earlier and the highest in records dating to 2011, according to a report Thursday from RealtyTrac, a real estate data firm. Markets with the highest average gross return on investment included Baltimore, central Florida and Detroit.
I'm assuming gross profit is just the difference between the buy and sell prices, which is easy to find and calculate. Those numbers don't include any fix-up costs (repairs, remodeling, or construction) or carrying costs (loan fees, interest, and taxes).
Finally, the risks:
The hard-money market is getting crowded, which may lead companies to loosen their standards, said Mark Filler, CEO of Jordan Capital Finance, a lender acquired by credit investor Garrison Investment Group about six months ago. His business has more than 300 approved borrowers with credit lines.

"Everybody just jumped in," said Filler. "The risk is people start to relax underwriting guidelines to chase loans. As this becomes more competitive, there will be more pressure to do that."
I just received the first payment on my crowdfunded real estate loan experiment, but I'm already concerned with all the money flowing into this newly-accessible asset class.