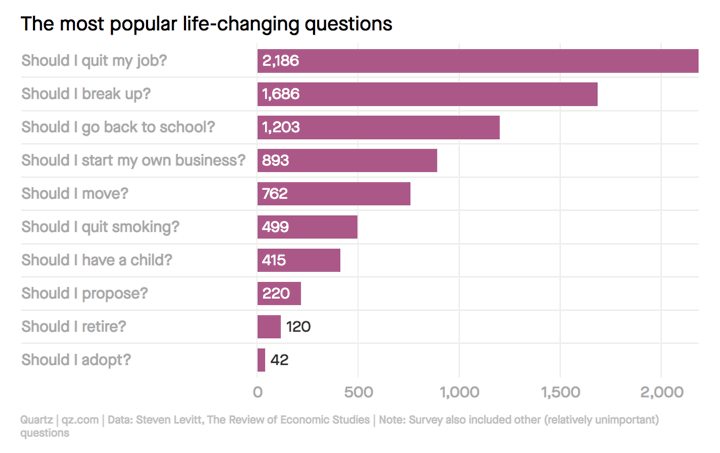 The recently-republished Quartz article An economist's rule for making tough life decisions draws from research by Steven Levitt, perhaps best-known for being co-author of the book Freakonomics.
The study asked people who were having a hard time making a decision to participate in a randomized digital coin toss on the website FreakonomicsExperiments.com. People asked questions ranging from "Should I quit my job?" to "Should I break up with my significant other?" and "Should I go back to school?" Heads meant they should take action. Tails, they stuck with the status quo.

Ultimately, 20,000 coins were flipped—and people who got heads and made a big change reported being significantly happier than they were before, both two months and six months later.
Here's the takeaway, direct from Steven Levitt:
A good rule of thumb in decision making is, whenever you cannot decide what you should do, choose the action that represents a change, rather than continuing the status quo.
Here's another version of the takeaway, per the article author Sarah Todd:
If the choice is between action and inaction, and you're genuinely unsure about what to do, choose action.
Again, this should be the tie-breaker. Obviously, if you are completely happy with the status quo, then there is no reason for change.