The following is a guest post from reader Andy, who bought his last vehicle on Craiglist and shared some of his experiences and advice.
I bought our last vehicle used on Craigslist (CL) and am a big advocate of buying used and direct from private parties (i.e. not from a used car dealer). New cars depreciate significantly when you drive them off the lot and that works to the disadvantage of the used car seller and the advantage of the buyer. Also, provided you can avoid lemons and rust, with regular maintenance today's cars (especially those with a V6 engine) can reliably last up to two hundred thousand miles before they need to be replaced.
I think you can get a better deal when buying from a private party because you cut out the middle-man (the dealer) and can often negotiate on price if you are a serious buyer and show up with cash. The market for used cars is inefficient. That doesn't mean you can show up and steal a late model Mercedes from a seller for $500. Kelly Blue Book values on just about all models are easy by anyone. However, the market for used cars is inefficient with regard to quality. In general the KBB value on a car (same make, model and mileage) that has been thrashed by a teenager and never had an oil change is the same for one that has been babied by a retiree who only drove it on sunny days and took it regularly to the dealer for all scheduled maintenance. To me, getting a great value on a used car is finding the latter and avoiding the former, and being willing to pay close to blue book value when I do.
Unlike going to a used car dealer, when buying a car on CL you need to do some research upfront and determine the make and model of car you want to buy, or at least narrow it to a couple of options to narrow your search. Also I try to know what year(s) I am looking for. Models change every few years and while it is cheaper to buy a car dating to just before a model change you want to be sure there are no significant upgrades in the more recent model that you'd prefer to have (i.e. less rollover risk in an SUV, airbags, or a significantly better engine). Also, Consumer Reports is an excellent source of information on the performance and reliability of brands, makes, models, and years. Once I know what car I am looking for I next begin my CL search.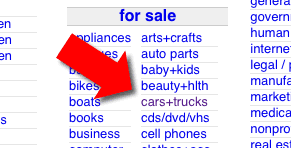 Within the cars and trucks section of Craigslist there is a drop-down box next to the search box that defaults to "cars+trucks." I always click on this and bump it up one selection to "cars & trucks – by owner" which eliminates most of the used car dealers, though not all. Another reason I avoid dealers in addition to the lack of transparency is adverse selection. Used car dealers may carry some cars they bought at auction that may have had damage or other unsavory history. This is a big investment and I'd prefer to avoid those risks. Here are the steps I use to find a car I feel comfortable buying on Craigslist:

1. Search for the make and model
I generally only search locally but may hit several nearby CL regions—anything within driving distance. Look for ads with pictures. Ideally the seller will be the original owner but that isn't a deal-breaker. There is a trade-off between year, mileage, and price. I generally have an idea of the years I am looking for, like 2004 (when the displacement of the engine was increased) to 2010, and within that range I am looking for something with around 60k miles or less. Something older with fewer miles may be cheaper than something newer with more and I generally emphasize lower mileage over newer provided there have not been significant changes to a model during the years I'm comparing.
Positives: original owner, serviced at the dealer, synthetic oil (shows they care), highway miles, always garaged, wife's car, extended warranty, thorough/thoughtful description, a legitimate reason for selling, located in an affluent area
Negatives: modified, salvage title (run!), visible body damage, selling for my neighbor, 20" chrome rims, very short or sketchy description
2. Contact the seller
After finding several promising candidates priced reasonably around blue book value I will begin by e-mailing the seller to get more information about why they are selling, whether they have maintenance records, and ask whether they are flexible on price—it never hurts to ask at this point. Service records are very important. I want to get some assurance that the car has been well-maintained which means regular oil changes at the very least. If I can't get comfortable that this is the case I move on. Assuming everything seems legitimate I will get the seller's phone number and call to set up a time to see the vehicle at their home.
3. Visit and test drive
The next step is to go and see the seller and the vehicle. You may want to bring your spouse or someone who knows more about cars than you do. At this point I am learning as much about the seller as the vehicle itself. Remember, a car from an anal person who changed the oil religiously costs the same as one from a slob who neglected it entirely. The former is more likely to have a neat home with reasonably maintained landscaping and other nice vehicles.
I thoroughly go over the car inside and out. Look for any signs of collision damage, which can portent structural or suspension issued you want to avoid, and any extreme wear that seems out of place with the age and mileage of the vehicle. The car should appear clean and well looked after. Any sign of water damage on the interior is a red flag.
Ask to see maintenance records and ideally they will have a thick book of receipts from a dealer or lube shop. There is some chance they change their own oil which is okay as well, provided they can tell you the exact mileage of the last change and when the next one is due on the spot. Start the car and make sure everything works. Listen for any odd sounds. Take the vehicle for a test drive (typically with the seller) and it should drive very smoothly and not do anything out of the ordinary. Even if you aren't experienced at all working on cars you should be able to notice negative feedback the car is giving you on a test drive—it just won't feel or sound exactly right.
I would confirm again why they are selling and then thank the seller for their time, tell them I have a couple of other cars to look at and will get back to them the following week.
4. Narrow the field.
At this point I will have a good idea of my front-runner. Before making an offer I will ask the seller if I can have my mechanic go over the car. If they say "no" that's the end of the story. I also order a Carfax report on the vehicle to make sure it was never in an accident. I also confirm that the seller holds the title to the car or if they have a loan against it they can obtain the title upon paying off the balance. Assuming my mechanic doesn't find anything wrong, I'm ready to move forward.
5. Make an offer
If everything checks out I make the seller a serious offer. In general I have a good idea that the car is worth more than blue book at this point because if I've done my homework it is an exceptionally-maintained example of the make and model. Their asking price should be close to blue book value as well. I will call the seller and offer a few hundred dollars below the blue book value but be willing to come up if necessary. At this point I want the car but am not willing to overpay. But the idea is not to rip off the seller, either. Paying a hundred dollars more for a car that has been well maintained is vastly smarter than saving a hundred dollars and ending up with a car with lots of problems. That's the name of the game.
6. Close the deal
Once a sale price is agreed upon, I'm ready to make the purchase. At this point it is a fairly mechanical process. I go to the local motor vehicle administration's website to find out the specific requirements pertaining to temporary tags to get the car home, what forms and documents I need signed to have title transferred legally, and anything else that is relevant. I also place a call to my auto insurance agent to notify them I will be buying a used car from a private party and make sure it will be covered until I get it home, at which point I will arrange permanent insurance with them. Most insurers will automatically cover newly purchased vehicles for a brief period between when you buy and your next billing cycle.
I arrange to meet the seller and take possession of the car in exchange for cash or cashier's check, in the case of a large sum or the proceeds from an auto loan. This is where the rubber meets the road. You want to ensure that you walk away from the transaction with the vehicle, a signed title, and/or any documents required to transfer title to yourself in your jurisdiction. In some cases a notary is required, which you must arrange. If the seller has a lien on the vehicle you may want to accompany them to their lender's office to pay off the balance and obtain the title, which may reside with the lender. This is crucial—without the title you do not own the car.
By this point in the process I'm a little sweaty but happy with my new (to me) vehicle and the price I've paid. Most importantly, while nothing is 100% certain, I feel I've done my utmost to ensure the investment of both time and money I've made will result in reliable transportation for many years to come.