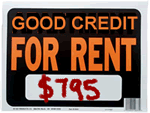 You have bad credit. You want to buy a house. Why bother with such old-fashioned ideas like paying off debts and slowly building back your credit? You want that McMansion now! All those other sub-prime defaults are just crimping your style. Well, now you can simply buy good credit! Or more accurately, rent it.
It's been a well-known practice for parents add to their kids as authorized users on their credit card accounts. Besides letting them buy textbooks, this can boost their credit scores because that larger and long-standing credit line will show up on their borrowing history as if it were theirs. Now add three critical facts:
1. Authorized users don't have to be related to you.
2. There is no limit on how many authorized users you can.
3. There is no law against the rental or sale of authorized-user designations.
You see where this is going? From a recent Washington Post article titled Credit Scores for Sale:
Exploiting that loophole, numerous companies have popped up on the Internet offering to buy and rent out the credit card "trade lines," or accounts, of credit card holders with high limits and perfect payment histories.

The person seeking a higher credit score does not obtain access to the credit card. Within 30 to 90 days of being added to the account, the national credit bureaus incorporate the primary cardholder's ongoing account information into the files of the authorized user. The score-raising attributes of the primary cardholder's stellar payment record then flow through to the new user.
One example site mentioned is AddaTradeLine.com. The site screams shady. Still, I wanted to see how much my "seasoned" credit lines were worth.
2) How much will I get paid?

The amount varies, and it depends on the age of the card, and the credit limit. We pay the most for old cards (30-40 years old) and high limits (100k or more) We do pay for any cards you have with a limit of at least 1k, and at least 6 months old. If the card is less than 6 months old, but has a credit limit of $5,000 or more, we can rent that as well. We are currently offering 25% payout on what our customers pay. Based on our current pricing, you would receive anywhere from $125 to $625 per transaction. To get paid at the higher tiers, you need to have a more attractive credit card account. An example would be a 30 year old Visa card with a reported limit of $150,000. A typical example of an $125 tradeline payout would be one 3months old, with a limit of $7,500.
They report people adding upwards of a hundred authorized users per card on a desirable credit line! That's over $10,000, with no direct hit to your credit score.
But is this really safe? (Let me put on my evil thinking-cap.) If you add a stranger as an authorized user, they can get your credit card number from their credit reports (some have them partially blocked out, but not my old Transunion one). Since you're having the extra card sent to your own home, your address may even show up on their credit reports as an alternate address. If they do a reverse phone book lookup on that address, they would have your name. So now they have your name, address, and credit card number. There are a very finite amount of possible expiration dates. And they are an authorized user. Hmm… even with ethical considerations aside, this doesn't seem like a good idea. Thanks to Nathan for the tip.
Besides, I already profit from my good credit score by sacrificing a bit of it to borrow money for free and earn interest off it.