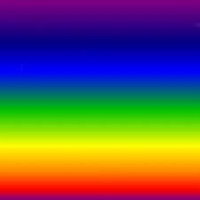 Do you recommend Wealthfront? Betterment? WiseBanyan? Schwab Intelligent Portfolios? Vanguard Personal Advisor Services? The upstarts like to bash on the competition, making it seem like they are your digital savior while everyone else is evil. The truth is that they are more similar than different.
Morgen Beck Rochard of Origin Wealth Advisors recently created the helpful infographic below on the wide range of possibilities you can get when you hire a "financial advisor". Found via The Big Picture. Click for full source image.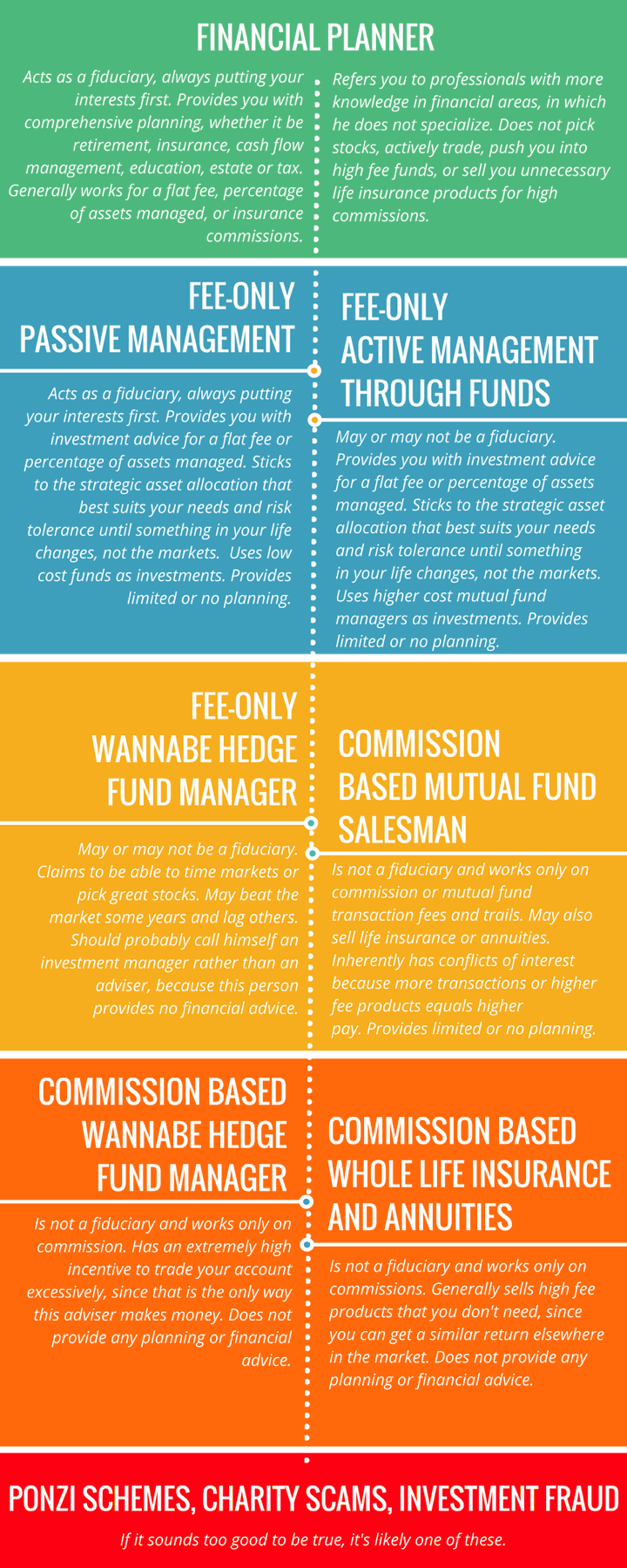 What does it mean? The term "financial advisor" tells you nearly nothing about:
Their level of training or years of experience.
The type of investment products that they sell (individual stocks, active funds, passive ETFs, whole life insurance, complicated annuities?)
How they are compensated (flat fee, percentage of assets, commissions).
Whether they are a fiduciary (legally required to always act in the client's best interest)
Wealthfront, Betterment, WiseBanyan, Schwab Intelligent Portfolios, and Fidelity Go are all in the space of "Fee-only Passive Management" near the top. They are all Registered Investment Advisors (RIAs), which amongst other things are fiduciaries legally required to act in your best interest. They all manage a diversified portfolio of low-cost, passively-managed funds. They all charge a fee based on assets managed. They all provide limited financial planning, mostly using software with inputs that you adjust yourself.
Avoid everything below! Stay away from the yellow, orange, and red boxes. Complicated universal life insurance and equity-indexed annuities. Expensive mutual funds with expense ratios of 1% or higher. Using the principle of inversion, by simply avoiding these products you're already doing above-average (with below-average fees).
Meanwhile, at the very top is what I cynically call "unicorn land". Who doesn't want a qualified human advisor that puts your interests first, provides comprehensive financial planning, and charges a reasonable fee? The paradox we get is that if a high-touch human financial advisor is good at what they do, chances are that they won't look at your account unless you have over $1 million. Also, they tend to be more expensive. Looking at the Form ADV of Origin Wealth Advisors for example, over 75% of clients are "high net worth" and the portfolio management fee is 1.5% annually unless you have more than $5 million. There is nothing wrong with targeting high net worth clients and charging a premium fee for premium service. A human advisor that keeps you on course and prevent market timing or panic selling could create "advisor alpha". But 1.5% annually is expensive, any way you cut it.
There are qualified, reasonably-priced human advisors out there, but you won't find them on every street corner. In contrast, anyone with $500 can click on over the Betterment or Wealthfront and get a solid portfolio built and rebalanced regularly for them. At 0.25% annual fee, a $100,000 portfolio will cost $250 a year. Most people don't even have $100,000 saved up.
If I had to start all over from the beginning, I'd probably do this. First, save up cash until you get $1,000. Then buy and keep investing in a Vanguard Target Retirement mutual fund. At the same time, learn about investing, behavioral psychology, and market history. Read, read, read. Then manage my own portfolio. But that's not for everyone.
If you can keep putting money into your Target Retirement fund even during market panics with no other authority figure (robo or human) to help you out, then you could just keep your money there indefinitely. Give it a decade or three, and it will work fine. If you want to hire a low-cost robo-advisor to manage your portfolio, that will also work fine (if you also let it be). The more complicated robo-portfolios might create a slightly-higher risk-adjusted return, and automated tax-loss harvesting could offset part or all of the advisory fee. Remember that you are picking between different shades of blue on the above spectrum. You're doing pretty good. Don't become a victim of paralysis by analysis. The enemy of a good plan is a perfect plan.