It's 2011, so why not a status check on your credit scores? In a previous post, I explained the relationships between credit reports vs. FICO credit scores vs. FAKO credit scores. Give it read if you haven't already. You can obtain a free copy of your credit report from all three major credit bureaus once every 12 months from AnnualCreditReport.com, as mandated by the government.
As for credit scores, chances are you'll have to pay up for a FICO Score. But even though I feel that such FAKO scores are only good as a credit score estimate, I'll still take it if it's free. Remember, there are three different credit reports out there for you, so there are also three FAKO credit scores you should track. It happens that there are websites that will either provide a free FAKO or a credit score range for all three credit bureaus with no credit card required. Pulling your own credit score doesn't hurt your score either.
TransUnion-Based
CreditKarma.com is an ad-supported site that offers you a free FAKO as often as you like, called a Transrisk score, based on your Transunion credit report. The score range is the same as FICO, from 300-850. Brave souls!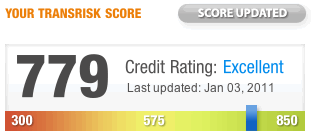 You don't get your credit report details, but you do get a few tips on what recent changes to your credit report have impacted your score. CreditKarma recently added two new free scores as well – the VantageScore and Auto Insurance Risk Score, both based on your TransUnion data. VantageScore is basically a challenge to FICO and has a completely different scoring range system, and the other one is used by auto insurers to "assess your riskiness and to assist in pricing your premiums".
Equifax-Based
The Equifax Credit Score Card comes directly from Equifax and provides a free credit score range of Low (280-559), Below Average (560-659), Average (660-724), Above Average (725-759), and High (760-850). It's called the Equifax Risk Score. FICO has a range of 300-850, and this range is 280-850 so you don't really have to do any scaling.

It doesn't provide any specific data from your Equifax credit report, but it does include a short summary of any negative factors that you may have on your report.
Experian-Based
Quizzle.com is a site owned by Quicken Loans that offers you a free FAKO score every six months, called a "CE Credit Score", based on your Experian credit report. FICO has a range of 300-850, and this range is 350-850 so you don't really have to do any scaling. They just seem to alter it just enough so FICO doesn't sue them.

The site also provides access to the details of your Experian credit report, so this can be handy if you've already used up your freebie from government-mandated AnnualCreditReport.com.
One annoying part of the site is that they ask "required" questions about your home and mortgage that seem to imply that the answers are needed to access your credit score, but in fact are not. They just want the data to better target you for things like home equity loans or refinances (remember who runs the site).
FICO Score Estimator
Just for good measure, I filled out the FICO Score Estimator and got the following result:
If you really want your official FICO score, you can still get it with a free trial and immediately cancel with minimal hassle. Here are step-by-step instructions. The FICO is based on your Equifax report.
Note: Unless you're going directly with a credit bureau (which already has your sensitive data), you're going to have to give your personal information including Social Security Number to a third-party website. I am not a online security expert, so you'll have to do your own due diligence as to whether you want to proceed. I have agreed to be the test monkey and have used all these sites, and am showing you real screenshots of my results above.