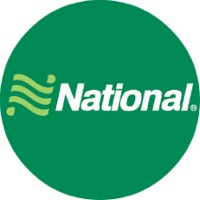 Back again for 2021, possibly good through 2023! Emerald Club is the loyalty program for National Car Rental that includes a unique "Emerald Aisle" where you can walk up and pick any car in that aisle based on your tier. The base Emerald tier (anyone can sign up and join this for free) may only mean picking between a Nissan Altima or a Hyundai Elantra, but it's still a bit of fun as I like cars.
I've been doing this multiple years, but American Express has brought back a promotion with a free upgrade to Emerald Executive Elite status, which is the highest tier – one above Emerald Executive and two tiers above plain Emerald Club. The "Executive Emerald Aisle" includes a wider choice of nicer cars including SUVs and large sedans (while still paying only the midsize rate) and faster rewards accrual (1 free rental day after 5 rental credits). I was able to extend my existing account, but you may have to sign up for a fresh new account (or sign up your spouse/partner as the 2nd driver is free). The form doesn't appear to ask for an American Express number. They will change your Contract ID and you should allow that, but you can always change it back later if you want.
Here is my Emerald Executive Elite status extended to February 2023:
In addition, if you enroll a new account through the promotion and also pay for your first rental with any American Express card, they will credit you with five Emerald Club Credits. Remember, 5 credits is enough for a free car rental already with Executive Elite status. Essentially, you get a free rental day after your first rental if paid with AmEx.
Enroll in National's Emerald Club® by clicking the Executive Elite Enrollment button below, between 10/9/2020 – 2/28/2021, and automatically advance to Emerald Club Executive Elite status. After enrolling, pay for your first rental with any American Express® Card and earn five Emerald Club Credits toward a future rental day.
Status match. Once you obtain your status and/or membership kit, you can also ask for a status match with Hertz, Avis (request via email), or Enterprise. The worst thing they can say is no.
Changing your Contract ID. When you make a new reservation, there is a section for "Account Number / Coupons". After signing up for this, it may say "AMEX EE" but you can remove it and change to whatever you wish. (You may need to keep it for 5 credit promo above.) Some discount car rental sites like AutoSlash.com will help you find and apply alternative coupons and contract ID discounts. My local credit union membership also lets me use a contract ID that sometimes offers the lowest rate.