You may be familiar with Credit Sesame from my popular free credit scores with no trials post, as they offer you a free credit score based on your Experian credit report, updated once a month. They make money by presenting you with credit-related offers like mortgage refinances or auto loans. I've been happily getting my updates for years now… I don't worry about the absolute number as much as the relative change each month to see if anything new has either hurt or boosted my creditworthiness significantly.
Per this press release, Credit Sesame is now offering free daily credit monitoring as well. No tricks, no trials, no credit card required. If you're already a member, just log in and opt into the new feature. You can also get push alerts via their Android and iPhone apps. Here's a screenshot with nothing exciting since it's only been 5 minutes: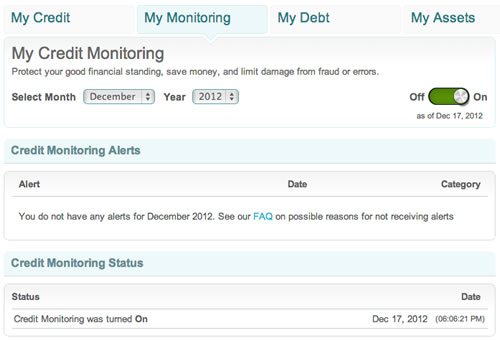 As opposed to the free monthly score, monitoring checks your Experian credit report daily and sends you an email alert if any activities have occurred – for example, if there was a credit pull by a lender or a new address added. This can provide early warning of attempted identity theft, reporting errors, or simply am overzealous lender checking your credit without permission. Many providers charge $10-$20 a month for similar monitoring, and while it's potentially useful I've never recommended paying a hundred bucks a year for it. But hey, Credit Sesame already has my info, so I'll definitely sign up for free.
(Note: You can get also free credit scores and similar monitoring alerts based on your TransUnion credit data at CreditKarma.com.)
From their FAQ, here's a sample of events on your Experian credit report that may trigger an alert:

Public records
Derogatory credit
Changes to your accounts
Security or fraud alerts
Address changes
Lost or stolen card notifications
New accounts opened
Credit inquiries
Balance changes
Credit limit changes
Credit usage changes
Credit score changes
Just to be clear, checking your own credit with such services does not affect your credit score. Also, this only covers Experian and not Equifax or TransUnion, but most information gets on all 3 bureaus eventually (see CreditKarma note above). You can also opt out at any time or completely delete your account. Directions are found in the Terms and Service (which I actually read! I know, I'm a hit at parties), and copied and pasted selected parts below.
OPTING-OUT; TERMINATION OF ACCOUNT
We allow you to stop receiving our commercial and marketing emails at any time by following the unsubscribe instructions included in these emails or you can contact us at privacy@creditsesame.com, as set forth in our Privacy and Security Policy. You will still receive periodic transactional emails pertaining to account information, alerts and updates, as well as registration confirmation and responses to direct requests you have made. If you wish to stop receiving such periodic transactional emails, you may notify the Company that you wish to delete your account on the Site by emailing privacy@creditsesame.com. You may also delete your account at any time for any reason by emailing support@creditsesame.com or by logging in to your account and clicking on "delete my account" under "my profile."