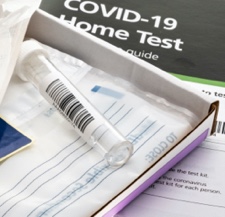 You can now order a third round of at-home COVID tests, this time 8 tests per household. Order your free at-home COVID tests at the US Postal Service website. Shipping is free. Unfortunately, we seem to be using these up at a regular pace to due school-related events.
If you didn't order tests in a previous round, you should be able to ask for more (16 total tests if you didn't order previously). They keep track based on your address.
If you had a problem with a previous order not being delivered (I did), open a support ticket and they will send you a replacement order.
You can't choose the brand; I received the iHealth brand the first time and SD Biosensor (Roche) the second time.
If you have health insurance through an employer or Marketplace, they are also required to pay you back for 8 at-home tests per month per person on your plan. They may also have set up a telephone hotline where they will ship you tests directly or a direct pick-up option at a local pharmacy. I always try to avoid asking for reimbursement whenever possible, it's like dealing with those old mail-in rebates!