(Warning: The following post is very stream-of-consciousness and written on very little sleep.)
While doodling today (I doodle a lot) I started thinking about money and how it such an overwhelming issue at times. I read so much advice from so many different directions, my head starts to spin. I ended up drawing this: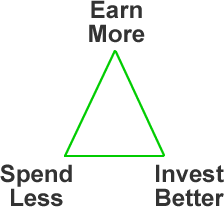 Basically, the idea is that if you want more money, you should focus in on one of these three areas:
Spend Less
Either through buying less goods and services, or by finding a lower price for the same goods and services, one can spend less money each month. Much of this is psychological, as most of what we buy are "wants" and not "needs". Long-time habits and deeply ingrained notions may need to be broken. Priorities need to be consciously decided. However, there comes a point where it is simply not possible to spend any less.
Invest Better
With the money that is saved, one would want to make it grow as much as possible. Here, I am focusing more on passive investments like stocks, mutual funds, bonds, or gold. There are many competing theories as to whether skill is a factor in picking stocks. Personally, I believe that the markets are mainly efficient, and that "beating the market" is exceedingly unlikely. All that can be done is to maximize your risk/reward ratio. Therefore, there is also a maximum value on how "well" we can invest.
Earn More
This is done via work, either through being an employee, or starting your own business and becoming the employer. Ways to advance in your career include more education, better interpersonal skills, or otherwise achieving positive results and getting promoted. Other more individual ventures include real estate investing, building a business with employees, or creative works that produce "passive income". These come with additional risk of losing money, but also offer added upside.
Priorities and Diminishing Returns
I feel that the first two, Spending Less, and Investing Better, should be the first to be addressed. If very little attention has been paid to these two areas, a lot of progress can be made. Of course, it can probably be a lifelong process to make sure these things continue to be taken care of. Lots of energy can be spent trying to optimize both (!). However, at some point, I think there will be diminishing returns. When you start considering about whether you should flush the toilet every time you use it in order to save water, perhaps it's time to focus on other things. 😀 Similarly, there is only so much I can make from maximizing bank interest and picking a optimum asset allocation. Of course, if you reach a happy place already, you don't even need to Earn More.
In a way, I think Spending Less and Investing Better are appropriately located at the base of the triangle. After building a good foundation, you can start taking some risks in the Earning More area. I think for most people this is the hardest part. It can be very hard to increase one's salary if they feel they are stuck in their current career. Maybe they are comfortable already. Taking classes, switching jobs, it can be very stressful. On the other hand, it is also the one with limitless boundaries.
I know I already discuss these things on a daily basis, but I think it can also be good to methodically examine one's progress in each of these areas every so often.