Back in April I shared my personal bank account setup which I felt offered the best balance of convenience, liquidity, and interest paid out for my geographic location and tax situation:

Basically, I used my Washington Mutual Free Checking / 5% APY Savings (see review) account combo as my core account, but kept most of my money in T-Bills for the higher yield and state income tax exemption. Since then, a couple of things have changed…
First, the rates on 28-day Treasury Bills started to drop significantly, making their tax-equivalent return unattractive. They remain so today, as even the 6-month T-Bill rates are unexciting. In May, FNBO Direct (review) came on the scene and offered 6% APY until 9/28. So as my T-Bills matured I gradually moved them into FNBO.
Then 3 weeks ago, the Fed Funds rate was cut for the first time in years, which caused many banks to adjust the interest rates paid out on high-yield savings accounts. FNBO dropped their rate to 0.85% APY. I have been waiting for the dust to finally settle since, and I think it has since the speculation is now about what will happen during the next Fed meeting at the end of October.
Through all this, the WaMu (online-only) savings account has stayed constant at 5% APY. I'm surprised! I must say though, I've been enjoying this sort of "Core and Explore" setup for bank accounts. Most of my day-to-day activities like online billpay, checkwriting, deposits, ATM withdrawals, even getting money orders – they can stay stable and familiar with WaMu. I can also keep a nice chunk of money within quick reach, but still earning 5%. Then I get to rate-chase online with the rest of my temporary $100,000 cash hoard. 🙂 So I think I'll keep this way as long as I can: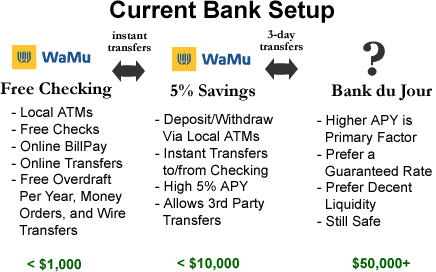 So what is the Bank du Jour? Well I just mailed in my check and signature form for Everbank's FreeNet checking account last week, but it hasn't been cashed yet. I like that the 6.01% APY is guaranteed for 3 months, and my Rate Chaser Calculator says the move should clear me at least another $100 over those few months. It may not be as lucrative for smaller balances, but to each their own.