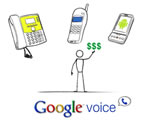 Just a quick note that Sprint conditional call forwarding is now free of charge. This means that Sprint customers can now forward all busy and unanswered phone calls to Google Voice without incurring the previous $.20/minute for conditional call forwarding – normal minutes usage still applies. Thanks to reader Matt G for the reminder.
If you don't know what I'm talking about, see last month's post on Using Google Voice To Enhance Your Cell Phone Voicemail.
I've been using it for the last few days, and I must say that I like it a lot. I can have unanswered phone calls to my cell phone number (not GV number) forwarded first to my home phone or office phone. Then, if still nobody picks up the Google Voicemail system kicks in, which records the message online and shoots me a transcribed text message about 30 seconds later. Transcription accuracy isn't perfect, but for the most part it works well enough to get the point of the message.
Check out my post on Ways To Save Money With Google Voice for several other useful features! They seem to be giving out invites to everyone who asks right now.