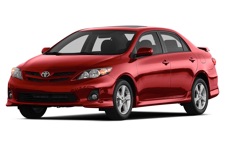 Apparently, my rule of thumb about affording cars isn't exactly going viral. If you are serious about financial freedom, you shouldn't be taking out loans for luxury items. A new car is a luxury item! Basic transportation will cost you under $10,000 and you can usually get a loan with the best interest rate from a credit union. Here are some surprising statistics from the WSJ article The Seven-Year Auto Loan: America's Middle Class Can't Afford Its Cars (paywall?).
The average new car auto loan is now $32,000 over 69 months. 1 out of 3 people are rolling over debt from their previous car. 90% of new car loans are for longer than 4 years. 70% of new car loans are for longer than 5 years. This is crazy. Soon we'll have a 15-year mortgage for cars.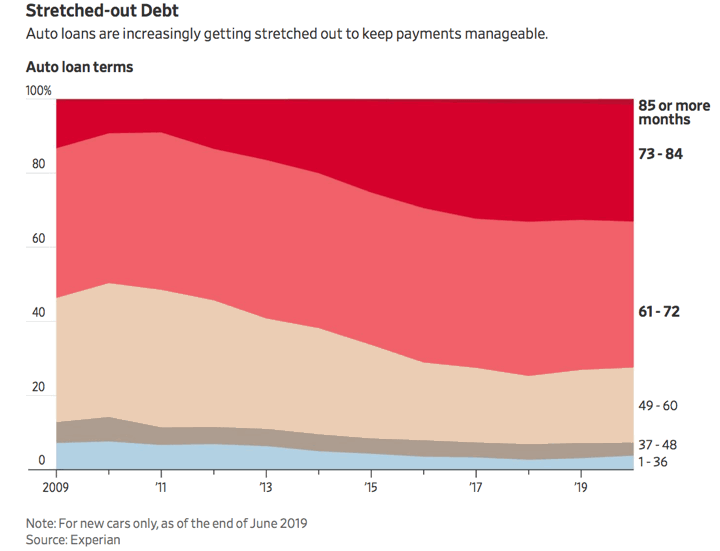 Dealerships now make more money from car loans (and add-on insurance junk) than the purchase price. They are getting a cut of all the interest you're paying.
So far this year, dealerships made an average of $982 per new vehicle on finance and insurance versus $381 on the actual sale, according to J.D. Power, a data and analytics company. A decade earlier, financing brought in $516 per car and the sale made dealers $837.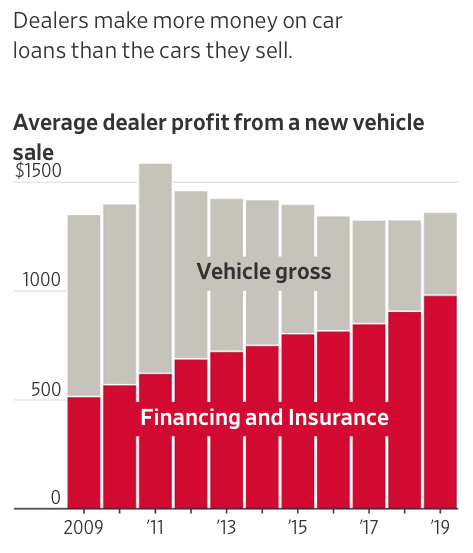 This is why I support the FIRE movement. It may not be perfect, but it can inspire a change in mentality where you would never consider going into debt for heated leather seats. Instead of a $32,000 car loan, you could spend $8,000 on a used 2012 Toyota Corolla and put $24,000 towards owning a $120,000 investment rental property with positive cashflow. Or you could put that $24,000 into maxing our your 401(k) or IRA. Or you could start building a compounding stream of dividend payments from owning high quality businesses. Or seed your own new small business. The idea of owning income-producing assets is what should get you excited!!
I'm not saying you should never buy a new car. If you have your financial ducks in a row, then sure buy whatever car you want… with cash! The debt industry wants you to have your dessert NOW, and pay for it later. They want a direct cut of every future paycheck. If it's a luxury, you should have to save up for it first, and then buy it. I know, such a quaint idea.
Getting far enough ahead to pay cash for your next car can seem impossible. Consider taking out a loan for minimalist basic transportation from all the major credit unions (NavyFed, PenFed, Alliant CU) as well as your local credit union. It'll work at used car dealerships and even on a car off Craigslist. $10,000 financed at 3.5% APR for 3 years is under $300 a month. After 3 years, instead of starting another new lease or facing another 4 years of car payments, you can now use that $300/month to buy your next income-producing asset.
Here is a chart tracking non-housing debt from the New York Fed. The slight decrease from 2009 to 2013 made me optimistic about the future. Since then, the debt has shot back up and my optimism has gone down: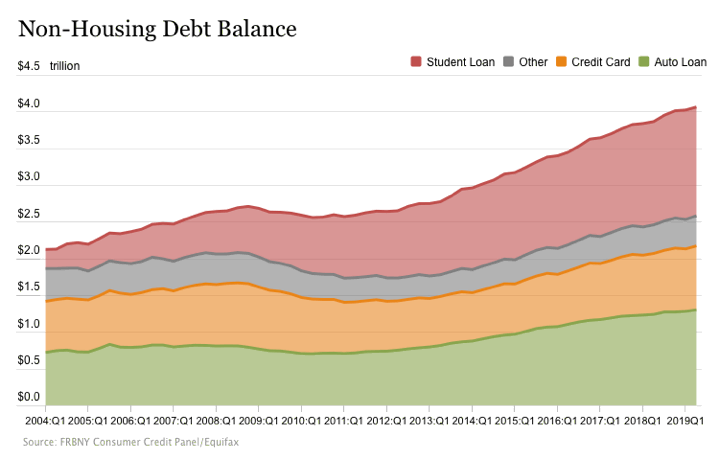 Have you noticed that half of all TV commercials are about new cars? It takes a lot of effort to convince you to buy something you don't really need.