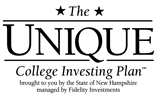 Fidelity Investments recently made a 40% reduction on the management fees for their direct-sold 529 Index Portfolios, with total expense ratios now ranging from 0.19-0.29%, down from 0.25-0.35%. Fidelity runs 529 plans based in New Hampshire, Massachusetts, Delaware, and Arizona. From the press release:
The index portfolio fee reduction applies to all Fidelity-managed direct-sold plans including The UNIQUE College Investing Plan, Fidelity's nationally distributed plan, offered by the State of New Hampshire; the Massachusetts' U.Fund® College Investing Plan; the Delaware College Investment Plan; and the Fidelity Arizona College Savings Plan. Total fees for the 529 Index Portfolios, including underlying mutual fund expenses, now range from 0.19 percent to 0.29 percent of assets, down from 0.25 percent to 0.35 percent. Unlike several competitor plans, all Fidelity direct-sold 529 college savings plans continue to have no annual account fees, low-balance fees, or fees to receive paper statements.
This should also serve as a reminder that Fidelity does offer low-cost index options in addition to their (inferior in my opinion) higher-cost actively-managed portfolios. The choices can be confusing – for example their "Portfolio 2030 (Fidelity Funds)" has a total expense ratio of 1.01%, whereas their "Portfolio 2030 (Fidelity Index)" has a total expense ratio of just 0.25%. You can change your investment option by sending in a form, usually limited to once a year unless you change beneficiaries.
Here is a screenshot of all the Index portfolio options and fee breakdown.
I think people are getting more aware of the impact of fees on performance, and this move makes Fidelity's plans more competitive with other top 529 plans. See rankings by Morningstar and SavingforCollege.com.
There are also Fidelity-branded credit cards that credit 1.5% cash back (Visa) and 2% cash back (American Express) towards any Fidelity account. I choose to have mine directed to a 529 account, specifically their New Hampshire UNIQUE plan which they advertise as their national plan (you can live in any state, but your state's plan may have better tax perks). I have also opened plans from Utah (lowest costs, flexible options) and Ohio (inflation-protected bonds as investment option) for my new kiddo and deposited her birthday gifts there.