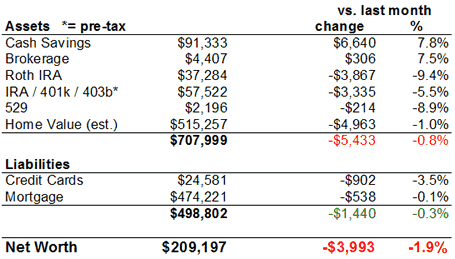 I pretty much have a general feeling of malaise right now. Hiring freeze at one job, big group meeting about how "we don't have to worry about layoffs… right now" at the other. And now it's time to look at my incredibly shrinking net worth… I know I have it really good in general, but let's just make this quick. 😉
Credit Card Debt
I do not carry consumer debt. In the past, I have been taking money from credit cards at 0% APR and immediately placing it into high-yield savings accounts or similar safe investments that earn 5% interest or more, and keeping the difference as profit. I even put together a series of step-by-step posts on how I make money off of credit cards this way. However, given the current lack of good no fee 0% APR credit card offers, I am just waiting to pay off my existing balances.
Retirement and Brokerage accounts
The media has pronounced last month as the "Worst January Ever" for the Dow (-8.8%) and the S&P (-8.6%). The value of our passively-managed portfolio shrank accordingly. Our 401(k) contributions for the month and new company match got swallowed up instantly by losses. Same old, same old.
Cash Savings and Emergency Funds
Our net cash balance (aka emergency fund) increased a bit, and remains more than 12 months of our total monthly expenses. Let's hope we don't need it.
I intend to contribute again to a non-deductible Traditional IRA for 2008. My reasons are basically the same as last year: Should I contribute to a non-deductible IRA? The limits for Roth conversions are removed in 2010, which is just around the corner.
Home Equity
I continue to estimate our home value using internet tools, starting with the average estimates provided by Zillow, Cyberhomes, Coldwell Banker, and Bank of America. After taking off 5% to be conservative and 6% for expected real estate agent commissions (11% total), I am left with $515,257.
I need to work out the last few kinks in my new long-term goals, in order to regain some focus. You can see our previous net worth updates here.