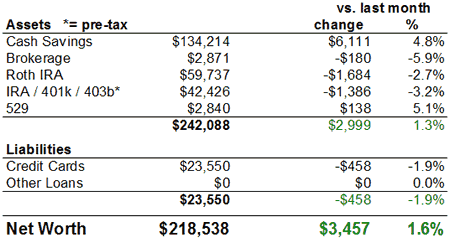 Credit Card Debt
If you've recently starting reading, you may have some concerns about my high levels of credit card debt. I'm actually taking money from 0% APR balance transfer offers and instead of spending it, I am placing it in high yield savings accounts that actually earn me 5% interest or more, and keeping the difference as profit!

Along with other deals that I write about, this helps me earn extra side income of thousands of dollars a year. Recently I put together a series of step-by-step posts on how I do this. Please check it out first if you have any questions. This is why, although I have the ability to pay the balances off, I choose not to.
Cash Savings, Home Purchase
We're still in the process of buying a home. There will be big drops on the cash column soon as we finally spend our down payment funds as well as pay for things like closing costs and home improvements for our home.
$5,000 was put towards the earnest deposit, and I just marked it as spent. But I will have to decide on how to account for my home value in my net worth. I'm leaning towards just keeping it simple and taking option #2, but that may be considered a cop-out if my home value drops.
Retirement and Brokerage accounts
For the third month in a row, our investments overall have dropped in value by 2-3%. Good thing I only check in once a month. I gloomily predict that things will get significantly worse before they get better… but I don't actually risk my money on guesses. I continue to "stay the course" and keep making regular investments into my asset allocation.
New Midterm Goals?
Although I still want to visit Brazil, Australia, and Southeast Asia, it looks like we'll probably be spending the next 6 months instead installing hardwood floors, remodeling bathrooms, and jackhammering some concrete. I don't know if we'll have the time or money to visit any other place besides the wonderful world of Home Depot. We'll have to see.
You can see our previous net worth updates here.