Recently, my friend Yogin told me about a website called Farecast.com. It's actually been around for a while now but somehow I've missed it… so maybe you have as well. There's basically two parts to the website that are unique. Let's say I'm planning a trip from Portland to San Francisco on 7/25-8/1. First they provide me the lowest fare history, which charts the lowest fare for your trip for up to the last 90 days: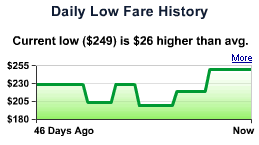 Pretty cool! You can try to predict any trends yourself or simply see if you're getting a good price relative to recent history. Another possible way to use the historical information is to help you decide what to bid on a site like Priceline.com or what to accept on Hotwire.
But FareCast also provides their own 7-day fare prediction to help you decide whether to buy now or wait. The arrow show how confident they are about it based on their algorithms:

To me, I would think the fare might actually rise more given the graph. But according to an independent audit, Farecast's prediction accuracy was 74.5 percent. Not bad, but not awesome? But they'll also put a little money where their mouths are by offering fare insurance when they are confident you should wait. Here's how it works: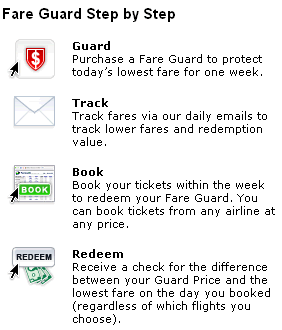 So you pay $10 upfront and wait. If they are wrong and prices go up, they reimburse you the difference. If they are right and prices go down, hopefully you saved at least $10. Worst case, prices stay the same and you're out $10. This is interesting… anyone use this insurance before? Either way, I'll definitely use this site in the future as part of my airfare research.
Added
Kayak is great, but don't forget to try and book directly on the airline's websites whenever possible, so you can take advantage of price drop refunds.