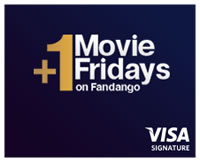 Back for Summer 2015. Fandango has brought back their Visa Signature summer promotion from April 24th to August 21st. 2-for-1 movie tickets on Fridays! You can also get 20% off Fandango gift cards which can be used any day of the week and can be instantly redeemable online.
2-For-1 Movie Fridays. If you buy two or more tickets via Fandango.com/visasignature on a Friday, one of those tickets will be free at checkout (up to $19.50 value, including Fandango convenience fee). Works with IMAX and other premium theaters. This should also work with the Fandango Mobile App "TIXPRESS" feature if you have a Visa Signature as the stored payment. No promo code required.
Tickets can be purchased on Friday for all Visa Signatures and Wednesday-Friday for Chase Visa Signatures, but it must be a Friday showing. Limit 1 complimentary movie ticket per Visa Signature card, per period of 30 days following the date of offer purchase. Maximum one (1) registered email address per seven (7) day period regardless of number of Visa Signature card or a valid U.S. issued Visa Infinite card.
Note that this means if you have more than one Visa Signature card, you can participate more often (especially if you use multiple e-mails). Check your credit cards.
20% off Fandango Gift Cards. You also get 20% off gift cards bought in $25 increments, which is basically $5 off $25 and valid any day of the week.
Limit four (4) discounted Fandango Gift Card purchases per Visa Signature card per month (maximum of $100 in Fandango Gift Cards).
Again, this is per Visa Signature card. The service fee can be annoying, but these promotions still make it a net discount. If you are a member of AMC Stubs, you can get the Fandango service fee waived at those theaters (membership costs $12 a year). I must say that being able to buy tickets from my phone is quite nice.
I'm not sure if these stack with other promotional codes, but their fine print says that they can't be combined with other offers.